Los Angeles Kings (1-2-0) vs Ottawa Senators (1-0-1)
Wednesday, October 9, 2013, 7:30 p.m. PT
Staples Center, Los Angeles, California
Referees: #8 Dave Jackson, #38 Francois St. Laurent
Linesmen: #98 John Grandt, #56 Mark Wheler
Los Angeles Projected Starting Goaltender – Jonathan Quick
2013-14 Season: 3 GP (3 GS) / 1-2-0 record / 3.18 GAA / .893 Sv% / 0 SHO
Career vs Ottawa: 4 (4) / 3-1-0 / 1.76 / .934 / 1
Last Game vs Ottawa: 1/23/12 / 59 MP / 27-28 shots / 4-1 W
2013-14, Home: 1 (1) / 0-1-0 / 3.03 / .893 / 0
Ottawa Projected Starting Goaltender – Craig Anderson
2013-14 Season: 2 GP (2 GS) / 1-0-1 record / 1.92 GAA / .948 Sv% / 1 SHO
Career vs Los Angeles: 11 (10) / 1-6-3 / 3.61 / .867 / 0
Last Game vs Los Angeles: 1/23/12 / 40 MP / 22-26 shots / 1-4 L
2013-14, Away: 2 (2) / 1-0-1 / 1.92 / .948 / 1
2013-14 Los Angeles Leaders
Total Points: Carter (2-0=2), Muzzin (1-1=2), Kopitar (0-2=2), Frattin (0-2=2)
Goals: Jeff Carter (2-0=2)
Assists: Anze Kopitar (0-2=2), Matt Frattin (0-2=2)
Plus/Minus: Greene, Ellerby, Williams, Carcillo, Martinez, Mitchell, Regehr, King tied (0)
Penalty Minutes: Kyle Clifford (14; 0-0=0)
2013-14 Ottawa Leaders
Total Points: Kyle Turris (1-3=4)
Goals: Cowen, Turris, Spezza, Karlsson, Conacher tied (1)
Assists: Kyle Turris (1-3=4)
Plus/Minus: Kyle Turris (+4; 1-3=4), Clarke MacArthur (+4; 0-2=2)
Penalty Minutes: Cowen (4; 1-1=2), Ryan (4; 0-1=1), Smith (4; 0-0=0), Spezza (4; 1-0=1)
Los Angeles Projected Lines
Dustin Brown – Anze Kopitar – Justin Williams
Daniel Carcillo – Mike Richards – Jeff Carter
Kyle Clifford – Trevor Lewis – Matt Frattin
Colin Fraser – Jarret Stoll – Jordan Nolan
Robyn Regehr – Drew Doughty
Willie Mitchell – Slava Voynov
Alec Martinez – Matt Greene
Jonathan Quick
Ben Scrivens
Level of confidence in projected lines: C. Today's morning skate was optional. While most of tonight's skaters participated, no line rushes took place, so yesterday's realignment could not be confirmed. Dwight King was the last forward off the ice, and Jake Muzzin and Keaton Ellerby stayed on for extra work, so it appears as though Daniel Carcillo will make his Kings debut and Alec Martinez will make his first appearance of the season. Here's your frequent reminder that lines are always in flux throughout the game and will be adjusted as the game develops. The above projection is a reflection of Tuesday's practice lines.
Notes and milestones: The Kings are 11-1-1 all-time at home and 16-7-2 overall against Ottawa. The Kings have won five straight home games in the series, dating back to January 30, 2003. … Drew Doughty is one game-winning goal behind Steve Duchesne for the second most amongst defensemen in franchise history. … Anze Kopitar is one point behind Jim Fox for the eighth most points in franchise history and one shorthanded goal behind Ziggy Palffy for the fifth most SHG in franchise history. … Justin Williams has 499 career points (191-308=499) and is the current team leader in consecutive games played with 133. … The Kings have sold out 51 consecutive regular season games, dating back to December 3, 2011. Including playoffs, the Kings have sold out 69 straight games.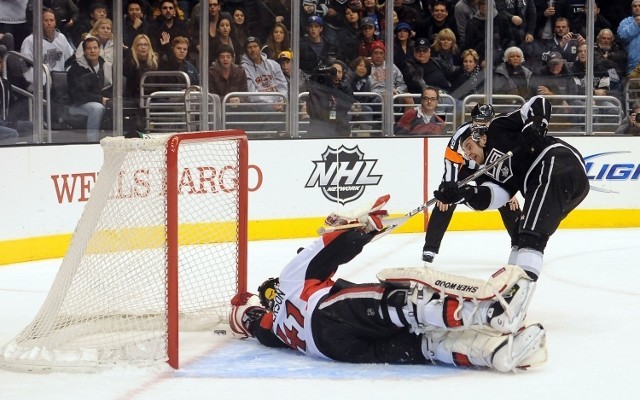 -The home opener didn't exactly bring out the most alluring form of Kings hockey, and according to assistant captain Matt Greene, some self-assessment is in order as a response to Monday's 3-1 loss to the New York Rangers.
"Guys know they've got to be better. That's it," Greene said. "Guys have got to look at themselves right now and make sure that [they're] going. Before you can really start giving anybody else the business, you've got to make sure that you're on top of your game, and I think everybody would agree that they can perform better, and so worry about getting that going. Worry about getting yourself going before you start pointing fingers."
-From the press box, it appeared as though Alec Martinez put together a useful preseason, though Darryl Sutter characterized his play as "in and out."
Martinez, who had two assists and a minus-two rating in six preseason games, "didn't step up and…seize the opportunity," according to Sutter.
He appears ready to get his first action of the season against the Senators tonight.
"It's no different than it was three weeks ago," Sutter said. "I'm not trying to force square pegs into round holes. Muzzin, Martinez, Ellerby, Voynov, Doughty, Regehr, Mitchell, Greener. Of them all, Greener, in terms of his role, is probably the one guy that's fulfilled the expectations after three games."
-Dustin Brown, on what must be paid attention to when Erik Karlsson is on the ice:

-Like Brown, Trevor Lewis and Jonathan Quick, Senators starting goaltender Craig Anderson will be among those competing for a spot on the U.S. Olympic team this winter. Like Brown (and Drew Doughty), he's also a veteran of the OHL's Guelph Storm. Brown and Anderson played together during the 2000-01 season, when Anderson was 19 years old and Brown turned 16 that November.
"Going back to last year, he was probably a Vezina finalist if he doesn't get hurt," Brown said of the goaltender who missed time due to a sprained ankle a year ago.
"He's a big guy, for one, so he covers a lot of net. He's a big guy that's always in position, but when he gets out of position, he's capable of making those saves that he's not supposed to. He never gives up on the puck. That's the one thing I think you can say about him, is he's always battling to see through traffic, and with his size he takes up a lot of his net."
–Brown, on the strong shift he had with Kopitar and Williams shortly before New York opened the scoring in the first period Monday night:
"O-zone time is a key to our game. As a line, that one shift was really good, and we've got to be able to build off a shift like that. That's the one thing we need to kind of improve on – when we have one shift, we need to have a second, and a third. But if you look at the two things are shots on net and support for each other. We were moving the puck well,but we were also supporting each other well. Sometimes you get a little too spread out in the offensive zone, and that's when the possession game breaks down."
Ottawa Projected Lines
Milan Michalek – Stephane Da Costa – Bobby Ryan
Clarke MacArthur – Kyle Turris – Cory Conacher
Colin Greening – Zack Smith – Chris Neil
Matt Kassian – Jean-Gabriel Pageau – Erik Condra
Marc Methot – Erik Karlsson
Jared Cowen – Patrick Wiercioch
Chris Phillips – Joe Corvo
Craig Anderson
Robin Lehner
Notes: Lines via Curtis Zupke of NHL.com. … Jason Spezza is nursing a sore groin and will not play tonight. Stephane Da Costa will replace the veteran center on Ottawa's top line. Spezza was named the team's captain in Septenber. Daniel Alfredsson, who had worn the "C" since the 1999-2000 season, departed for Detroit via free agency in the summer. Ottawa's last three captains have been Alexei Yashin, Alfredsson and Spezza. … Bobby Ryan is an alumni of the L.A. Junior Kings program. … Joe Corvo, a fourth round pick by Los Angeles in 1997, appeared in 203 games with the Kings from 2002-06. … The Senators open the season on a six-game road trip. Having already visited Toronto and Buffalo, they'll also visit San Jose (Saturday), Anaheim (Sunday) and Phoenix (Tuesday).