-If you looked behind the goal at which the Kings shot twice, you saw large black drapes obscuring the ongoing renovations of the San Manuel Club. It's almost representative of the start of the Los Angeles Kings season – there are still plenty of areas that need to be tinkered out and adjusted and some principles that could stand to be hammered home early in the season. After last night's game, the first and most important appears to be better protection of the puck. The Rangers' goals scored through the first two periods came off of defensive zone turnovers on breakout passes, and after the game Darryl Sutter intimated that a lineup adjustment could be made, saying that Alec Martinez and Jake Muzzin "are pretty interchangeable." It's apparent that the team has the right materials and the right builders with which to construct a winning season, and three games in it's clear that the slight renovation is still ongoing.
-The inevitability of Brad Richards' second period goal could be felt throughout the building and came following a Kings power play in which they were outchanced by the Rangers penalty kill. In the two minutes and 28 seconds between Anton Stralman being whistled for holding and Richards scoring to increase New York's lead, here was the official sequence of play: Stralman whistled for holding (8:18) … Kopitar wins offensive zone draw (8:18) … Voynov offensive zone giveaway (8:30) … Carter's shot blocked by Girardi (8:55) … Pyatt shot on goal (9:07) … Quick covers (9:08) … D. Moore wins offensive zone draw (9:08) … Williams defensive zone giveaway (9:17) … D. Moore misses net on slapshot (9:20) … Voynov defensive zone giveaway (10:27) … Brassard misses net on wristshot (10:28) … Nash takeaway (10:42) … B. Richards goal (10:46).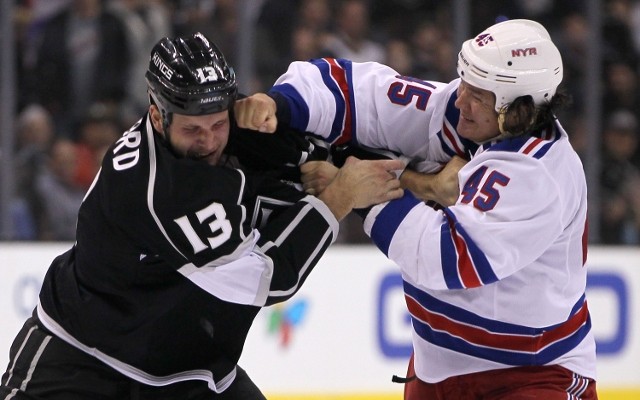 -Los Angeles has scored two goals during five-on-five play through the first 185 minutes of the season. One goal was scored by Jeff Carter; the other was scored by Matt Greene. Though the Brown-Kopitar-Williams line offered multiple flashes of pressure Monday night – with Brown ricocheting a puck off the post during a sequence of excellent forechecking and possession shortly before the Rangers took the lead in the first period – the line is yet to produce an even strength goal. We're obviously still in the small sample size portion of the season, but if the Kings are to raise the ceiling of their scoring output, that line needs to be productive and consistently generating scoring opportunities during even strength play. In other breaking news, water is wet.
-What should the reaction be to Jonathan Quick's gaffe? On one hand, he was the primary reason the Rangers weren't ahead by multiple goals at the time of Ryan McDonagh's 180-foot goal, and he can be given a pass for his miscue considering how many saves on Grade A scoring chances he has made in a Kings jersey. On the other hand, well, did we witness the wrong kind of history last night? Has there been another goal as fluky scored in the history of Staples Center? In Kings history? I've covered hockey for 14 years and attended my first NHL game in 1986, and I can't recall a similar goal scored at the NHL level. Fortunately for Los Angeles, Quick's hardened resolve is often illuminated following those brief moments in which his nearly impenetrable guard is questioned. It was one play – really two or three seconds – amongst an otherwise stellar 60-minute performance, but it will still be interesting to see how the goaltender will respond Wednesday night against Ottawa.