Los Angeles Kings (1-0-0) at Winnipeg Jets (1-0-0)
Friday, October 4, 2013, 7:00 p.m. CT
MTS Centre, Winnipeg, Manitoba
Referees: #18 Greg Kimmerly, #13 Dan O'Halloran
Linesmen: #73 Vaughan Rody, #82 Ryan Galloway
Los Angeles Projected Starting Goaltender – Jonathan Quick
2013-14 Season: 1 GP (1 GS) / 1-0-0 / 1.85 GAA / .931 Sv% / 0 SHO
Career vs Winnipeg / Atlanta: 3 (3) / 1-1-0 / 4.13 / .868 / 0
Last Game vs Winnipeg / Atlanta: 10/12/10 / 60 MP / 31/32 shots / 3-1 W
2013-14, Away: 1 (1) / 1-0-0 / 1.85 / .931 / 0
Winnipeg Projected Starting Goaltender – Ondrej Pavelec
2013-14 Season: 1 GP (1 GS) / 1-0-0 / 4.00 GAA / .895 Sv% / 0 SHO
Career vs Los Angeles: 1 (1) / 1-0-0 / 0.00 / 1.00 / 1 SHO
Last Game vs Los Angeles: 11/13/09 / 60 MP / 38/38 shots / 7-0 W
2013-14, Home: No stats
2013-14 Los Angeles Leaders
Total Points: Doughty, Kopitar, Frattin, Voynov, Regehr, Carter tied (1)
Goals: Drew Doughty (1-0=1), Jeff Carter (1-0=1)
Assists: Kopitar, Frattin, Voynov, Regehr tied (1)
Plus/Minus: Slava Voynov (+1; 0-1=1), Robyn Regehr (+1; 0-1=1)
Penalty Minutes: Kyle Clifford (9; 0-0=0)
2013-14 Winnipeg Leaders:
Total Points: Dustin Byfuglien (0-3=3)
Goals: Michael Frolik (2-0=2)
Assists: Dustin Byfuglien (0-3=3)
Plus/Minus: Trouba, Jokinen, Bogosian, Frolik tied (+2)
Penalty Minutes: Dustin Byfuglien (6; 0-3=3)
Los Angeles Projected Lines:
Dustin Brown – Anze Kopitar – Justin Williams
Matt Frattin – Mike Richards – Jeff Carter
Dwight King – Jarret Stoll – Trevor Lewis
Kyle Clifford – Colin Fraser – Jordan Nolan
Robyn Regehr – Drew Doughty
Willie Mitchell – Slava Voynov
Jake Muzzin – Matt Greene
Jonathan Quick
Ben Scrivens
Level of confidence in projected lines: B. It's the second game of a back-to-back, and only three skaters – Carcillo, Ellerby and Martinez – took the ice with Ben Scrivens for the morning skate. Quick will be in. King may see shifts with Kopitar and Williams, but I'm projecting Brown to return for good alongside his familiar linemates. I wouldn't be surprised to see Daniel Carcillo make his Los Angeles debut during this tight schedule, but for whom is unclear. Kyle Clifford is doubtful to leave the lineup, and adjustments at center would have to be made if he were to replace Colin Fraser. Keaton Ellerby could also take warm-ups as an extra skater, though I'm projecting the same defensive alignments.
-Los Angeles visits Winnipeg for the second time since the franchise's relocation from Atlanta during the 2011 off-season. The Jets defeated the Kings 1-0 on an Evander Kane overtime game-winner one week after Darryl Sutter made his debut as head coach.
"I remember we didn't score a whole lot of goals coming in, and it was no different," Anze Kopitar said of the December 29, 2011 affair.
MTS Centre's reputation precedes itself. The setting is known as one of the more raucous environments around the National Hockey League, which can be looked at one of two ways. Either it will be exceptionally loud during the home opener, or it will be just like any other game played in the league's smallest and most intimate arena. Darryl Sutter likely leans towards the latter.
"We played last night in a building where the team had never lost the home opener, and we know that every night in here is like a home opener," he said.
-Pleased with receiving two points in the standings, the Kings weren't exactly satisfied with their overall play in Thursday's season opener.
"We felt like we got away with one," Anze Kopitar said. "It definitely shows character. Even though we didn't play our best game, we battled, scored the late goal and won in a shootout."
When asked about what needs to come together to generate wins away from home, Sutter referenced his chat with the media the previous day.
"It's like you asked yesterday about training camp, what I learned from training camp. Well, I didn't learn [anything] from training camp, because I've seen most of these players in tough situations," Sutter said. "Winning situations. We're playoff battle tested, so it's the guys coming in that you've got to fight and figure out if they can. It's the same thing when you're asking about consistency and all that stuff. Well, you learn that through doing it over and over. Three or four of our older players last night and all of our new players were not very good players for us. At the end of the day, we get two [points], they get one."
A unique challenge will be presented on Friday night as the Kings will face a team they have seen only once in the last two seasons, and without the benefit of comprehensive video sessions as they play on the second night of a back-to-back set.
Kopitar revealed the methods in which the team familiarizes itself with an unfamiliar opponent when ample video sessions don't fit into the schedule.
"Well, you get some pointers, and there's a video running in the room all the time," he said. "You see that, but really in this time of the year, I guess, you've got to focus on your game, too. I think if we play our strong game, a solid game, we should be fine."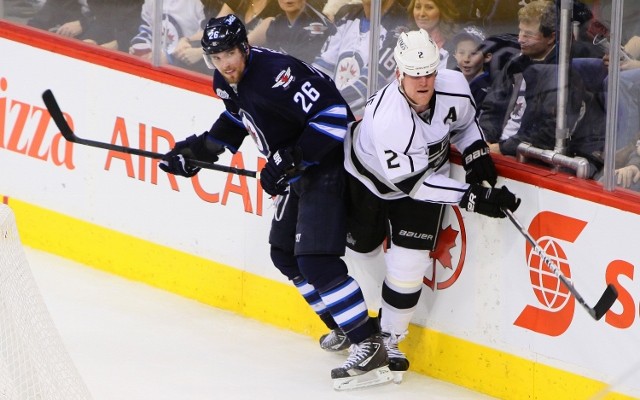 Winnipeg Projected Lines:
Andrew Ladd – Bryan Little – Blake Wheeler
Evander Kane – Mark Scheifele – Devin Setoguchi
Eric Tangradi – Olli Jokinen – Michael Frolik
James Wright – Jim Slater – Chris Thorburn
Tobias Enstrom – Dustin Byfuglien
Zach Bogosian – Jacob Trouba
Mark Stuart – Paul Postma
Ondrej Pavelec
Al Montoya
Notes: Line projections courtesy of NHL.com's At the Rink blog. … In his first career regular season NHL game, 19-year-old defenseman Jacob Trouba recorded a goal, an assist and four blocked shots in 25:02 of ice time. … Olli Jokinen, selected third overall in the 1997 NHL Draft by Los Angeles, is one goal away from 300 and two assists away from 400 in his NHL career. He was traded by the Kings to the New York Islanders along with Mathieu Biron, Josh Green and a 1999 first round draft pick on June 20, 1999 in exchange for Ziggy Palffy, Bryan Smolinski, Marcel Cousineau and a 1999 fourth round draft pick. Jokinen, who turns 35 in December, played 74 of his 1,088 NHL games with Los Angeles. … Winnipeg's first two home games will be against teams playing on the second night of a back-to-back set. They'll face the Ducks on October 6 after Anaheim plays at Minnesota on October 5. … The teams won't play again until March, with Winnipeg visiting Los Angeles on March 6, 2014, and the Kings paying the Jets a return visit on March 29, 2014.