Leading off the top of this morning's linkery may well be the off-season's most compelling and wide-reaching news story: The Manchester Monarchs will take the ice wearing the infamous Burger King jerseys on Los Angeles Kings Night in January.
From their press release:
Following the 1994-95 NHL Lockout and the purchase of the Kings by Philip Anschutz and Edward Roski, Jr., the organization joined an NHL-wide initiative to introduce third jerseys. The Kings jersey featured an arcing stripe from the right shoulder down the left hip that faded from black to gray. It included shoulder patches of the Kings primary logo at the time and a new King logo on the upper left front of the jersey that is the only human image ever featured on a Kings jersey. The alternate jersey was introduced on January 27, 1996 when the Kings won, 5-4, against the Mighty Ducks of Anaheim at the Great Western Forum.
This may have been achieved by an online vote influenced by Puck Daddy. Their headline? "Vote now: Force AHL team to wear LA Kings' infamous Burger King jersey".
The final results from the online vote: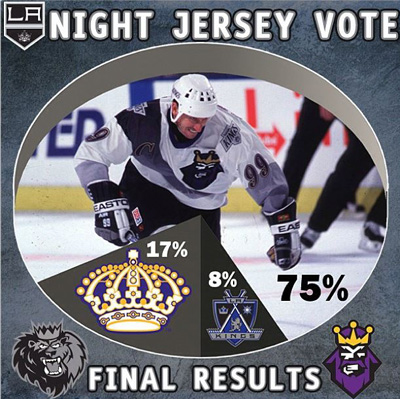 -via @ManchesterMonarchs
How noble.
Speaking of the Ducks, why is there hardly ever a mention of the jerseys the visitors wore in that game, which are easily the worst uniforms ever worn in an NHL game? The Royal Half has done the world a great service by continuing to acknowledge the Burger King jerseys while pushing for an appreciation night; why does Wild Wing get a free pass? @JerMeansWell, get on it. Let's see if we can nominate the image of Wild Wing breaking through the ice as Lassen County Comptroller or something.
-Voice of the Clippers Ralph Lawler hinted on Twitter recently that he's nearing retirement (the tweet appears to be removed, though his replies remain), and that this upcoming Clipper season may be his last as the team's play by play broadcaster. This hatched a terrific Helene Elliott column, in which she checks in with several local broadcasting legends, including Bob Miller.
From the LA Times on August 15:
Miller's previous contract expired July 1, and he said he was asked by the Kings and Fox Sports how long he wanted his new deal to be. Ten years? Fine with them. Concerned about keeping up with a swift sport and not cheating himself or his audience, Miller decided on one year. He also agreed to tell them by next March 1 if he will return for the 2014-15 season or retire.

"I've thought more about how long I'm going to keep doing this in the last couple of years than I ever have before," said Miller, the father of two grown children and grandfather of two.

"I'll be 75 when this season starts and I'm torn. Sometimes on the road there's things that go on and you think, 'Do I still want to be traveling around and staying in hotel rooms and everything like that?' And yet I get to the games and certain games you just think, 'What would I rather be doing than this?'"
There are many reasons why we love living in Los Angeles, and "being within the broadcast reach of so many legendary voices" is one of them. We are all very, very fortunate. (LA Times)
-The Royal Half was asked to submit the greatest Kings players by country last week as part of Puck Daddy's National Hockey League of Nations feature, and in the 1.5 seconds between acknowledging the link on Twitter and clicking on it, I thought to myself, "How will the image of Colin Fraser's bleeding eye be incorporated here?" Though the photo wasn't included, Fraser was named by TRH as the greatest Canadian to ever play for the Kings, and I don't really see how anyone could disagree. If you've already read this, there's a brand new All The Kings Men Podcast where Jesse, TRH and Pumper Nicholl continue to explore the #NHLoN format.
-Gann Matsuda caught up with Kim Dillabaugh, Goaltending Development, to talk about J.F. Berube and the organization's expectation that he'll earn the number two position in Manchester this season. Was there a slight rift over Berube's usage in Ontario last year?
From Frozen Royalty on August 13:
"Any organization would like their prospects to play in bigger roles, and have an opportunity to play as much as possible, to help their development, and we're no different," Dillabaugh noted. "[But] that's Jason's team, and he has to do what's best for his team."

"In terms of J.F. last year, he was partnered with Chris Carozzi, who, the previous year, had a very good season in Ontario," Dillabaugh added. "He was a veteran guy coming back—those two guys were both back, fighting for minutes."

"When you get two goaltenders who are playing very well, and have had success with [your team] in the past, it does make it a little more difficult to anoint one as your number one guy. You hope someone steps up, and completely takes control of that number one role, but again, the coach is there, on a daily basis, to make those decisions. Those aren't for us to make."
-Matsuda also chatted with Zac Leslie. (Frozen Royalty)
-Have your Vegas hotel reservation taken care of, play four hockey games, receive a commemorative jersey and socks in addition to VIP tickets to Kings-Rangers and Kings-Avalanche, party at the pool, and try your hand at the Luc Robitaille Celebrity Poker Tournament. It's all part of the Frozen Fury Fantasy Camp. (LAKings.com)
-Deborah Lew caught up with Steve Burnell, an adoptee whose wife tracked down his biological family to find out that they're all Kings fans and season ticket holders. This is a really cool story. (LAKings.com)
-Jewels from the Crown has polled various Kings writers (including LAKI) to determine the 25 most useful assets to the organization under 25 years of age. This is what you call Perfect August Material. Here's t-25 Nick Ebert, t-25 Jordan Weal and number 24, Colin Miller.
Elsewhere: Brian Stubits names his all-time Kings team (CBS Eye on Hockey). Surly is sad that it's August, so he tackles the team's top-10 prospects (Surly & Scribe). KingsCast Bloopers! (KingsCast). And because we're talking bloopers, this. Barry shares his thoughts (Big Mouth Barry). Jason Lewis asks "How good of a second line center is Mike Richards?" while tackling advanced stats (HockeyBuzz). Lewis also updates the Kings' top-20 prospects (Hockey's Future). If you missed it, I talked to Ben Scrivens, Bill Ranford and Kim Dillabaugh about the reduction in the size of goalie pads (LAKings.com) The city of Hermosa Beach commemorated the Kings (The Beach Reporter). ALSO: I have an afternoon meeting in which we'll attempt to sort out the issues some have had with this site's redesign. Stay tuned!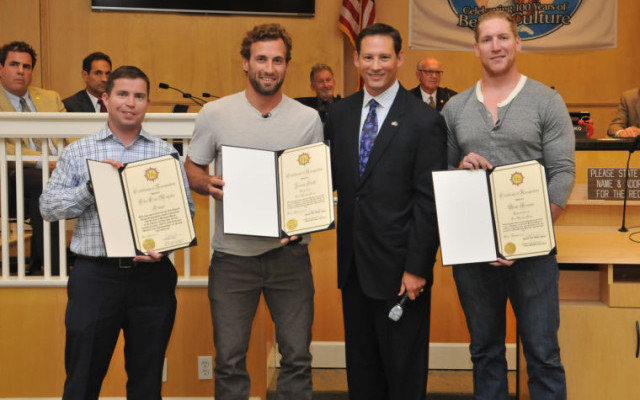 -Kathy Tavoularis / TBRNews.com