SENTIMENTAL TYPES: You should probably take a picture of the current LA Kings Insider layout, because change is coming.
On Friday, August 16, the brand new LAKI will debut, and it will look something like this: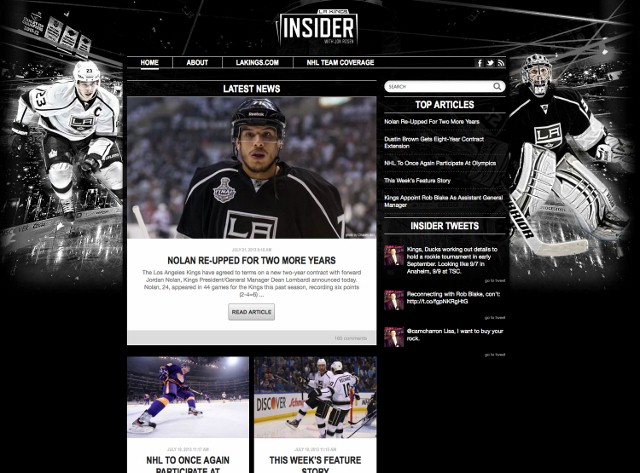 This redesign represents the cumulative efforts and vision of Aaron LeValley, Pat Donahue and Edward Valencia of the Kings, Greg Aldridge of Sanborn Media Factory and Eric Norton of Smartycloud, amongst others, who have helped guide this site's first major overhaul.
Thanks also go out to the frequenters of this site for input and suggestions. The most common request that we received was to have an edit function in commenting procedures, and lo, there will be one. All commenting procedures will be hosted by Disqus. Those who wish to maintain the simplicity and ease associated with LAKI commenting will be able to do so; those who wish to link their commenting to their social media accounts will have that option.
There will also be added ease in loading LAKI through the LA Kings iPhone app, though that won't be completed until the new LAK iPhone app is reconfigured and implemented near the start of the season. Until then, smartphone users may access LAKI through their phone's internet browser; it should be easier to read than the current LAKI format.
There will also be a transitional period over the third week in August as we all get used to the new site, so please bear with any minor hiccups or delays in bringing LAKI up to its full potential. With that in mind, there won't be any changes in content. Really, the only noticeable changes are in the site's aesthetics, drop-down bars and links, and commenting procedures. Every post will now have a photo assigned to it. There will also be a small space for two small advertisements on the front page. As always, if you have any suggestions, you can email them to me at jonnyrosen-at-gmail-dot-com or leave them in the comments below.
Because it takes time and effort to load all previous posts onto the new site and for the new site to become fully functional, there will be a three-day freeze period next week from Tuesday to Thursday in which LA Kings Insider will be closed for maintenance. During this time I will cover all relevant Kings news, should it arise, via LAKings.com.
Slow train coming. Reform, Lamar. Reform.
Hey, look! The Royal Half has also experienced a redesign.