July 16, 2013 7:00 am
I Was There #2: The McFlurry Miracle
Throughout the remainder of the month, LAKI will be reviewing the top 10 moments of the Los Angeles Kings season as a recurring feature entitled "I Was There."
KingsCast recently finished a similar endeavor, complete with screen grabs, video highlights and commentary. Alex Kinkopf's #TopTen list is recommended as a great account of the 2012-13 season.
I Was There #2: The McFlurry Miracle
Do you remember Game 6 of the first round series against St. Louis? If you were a nervous wreck – like many of the 18,346 inside Staples Center were – the night may have been an anxious blur with one unforgettable moment of pure, unadulterated joy.
FYI… if the LA Kings win, I'm calling this the McFlurry Miracle on Ice.

— The Royal Half (@theroyalhalf) May 11, 2013
The Kings weren't particularly good in Game 6. After they had taken a 1-0 lead on a beautiful first period Drew Doughty stutter-shot, the Blues were the much stronger team possession-wise and territorially in the second period. After tying the game at one on a Roman Polak point shot, the Blues continued to provide heavy pressure. Adam Cracknell sprung Ryan Reaves loose on a seam deep in L.A. territory; his forehand-backhand attempt was denied by Quick, who also rebuffed Kevin Shattenkirk's rebound attempt. Chris Stewart was also denied on a quality opportunity from the slot with the game tied at one.
And then, in the period's final moments, Los Angeles' ability to inevitably capitalize on a brief moment of St. Louis vulnerability once again came to light – as it had in many head-to-head meetings between these teams over the last two years.
David Backes had the puck on his stick near his own blue line with six seconds remaining in the period. 5.8 seconds later, the puck was behind Brian Elliott, and one of the most massive releases of nervous energy was detonated inside of an uncomfortably tense Staples Center.

-courtesy KingsVision
Aesthetic beauty: Very high, though in a bizarre, unexpected sense. Hockey is essentially the testing of Chaos Theory, and the most beautiful characteristics of this goal lie in the sequence of events that eventually places the puck on Dustin Penner's stick. Never before can I remember seeing a goal materialize so quickly out of the hockey ether. I've previously described the sequence of bounces that allowed Justin Williams to send Anze Kopitar loose on a breakaway in overtime of Game 1 of the New Jersey series as the puck being spat loose by a random number generator, and this play has a somewhat similar feel. Had the shot not clipped a piece of Polak's stick, this game almost certainly heads into the third period tied at one.
Lasting impact: Extremely high. This is Kings history. It is a series-clinching goal. The Kings-Blues series will continue to be referenced with acknowledgement of the heightened emotions and the rugged competitiveness that made it among the most compelling Los Angeles playoff series of all time. The ultimate goal was scored by Dustin Penner, who in the span of 12-to-14 months evolved from a target of fan frustration to a cult-like, practically beloved figure in team lore.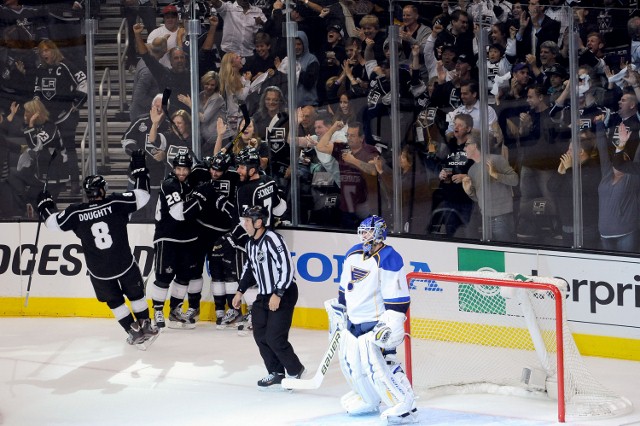 Previously on "I Was There"
#10: Toffoli's first goal
#9: Quick passes Hrudey
#8: Kopitar's goal versus Detroit
#7: Game 4 comeback over St. Louis
#6: Slava's overtime game-winner
#5: Banner raising ceremony
#4: Williams in seven
#3: The White House visit
KingsCast #2: Slava serves 'Last Call'