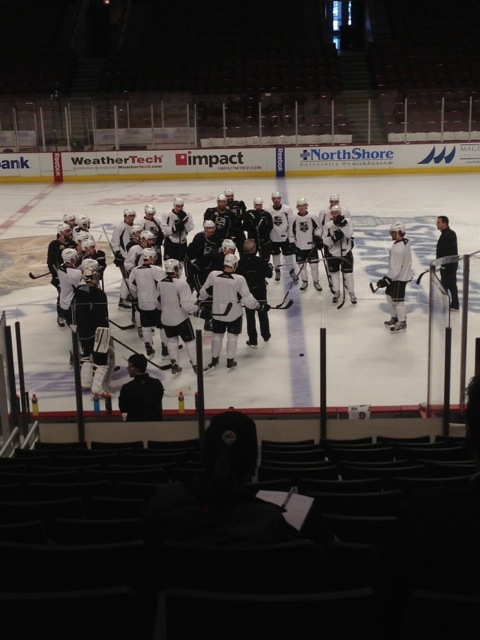 Projected Lines – Los Angeles
Dustin Brown – Anze Kopitar – Justin Williams
Dustin Penner – Jeff Carter – Tyler Toffoli
Dwight King – Jarret Stoll – Trevor Lewis
Kyle Clifford – Mike Richards – Jordan Nolan
Robyn Regehr – Drew Doughty
Rob Scuderi – Slava Voynov
Jake Muzzin – Matt Greene
Jonathan Quick
Jonathan Bernier
-Does Mike Richards play, or doesn't he? We won't find out until shortly before the national anthem. Considering he had skated earlier in the week, took part in today's morning skate and was considered "50-50" by Darryl Sutter, I'm rounding up. If he's able to go, his performance would dictate whether he sees additional minutes in a larger role. He'd also almost certainly see special teams time. If he's unable to go, either Colin Fraser or Brad Richardson would serve as the fourth line center. Anze Kopitar and Jarret Stoll will flip-flop from the previous two games, with Kopitar rejoining usual linemates Dustin Brown and Justin Williams. Drew Doughty has been impressed with power play partner Slava Voynov. "He's got the hot stick right now, so I'm just going to keep giving him the puck every time," he said this morning.
Projected Lines – Chicago
Bryan Bickell – Jonathan Toews – Patrick Kane
Patrick Sharp – Michal Handzus – Marian Hossa
Brandon Saad – Andrew Shaw – Viktor Stalberg
Marcus Kruger – Dave Bolland – Michal Frolik
Duncan Keith – Brent Seabrook
Johnny Oduya – Niklas Hjalmarsson
Nick Leddy – Michal Rozsival
Corey Crawford
Ray Emery
-With the Blackhawks finding success by flip-flopping Patrick Kane and Marian Hossa amongst their top-six forwards, it appears as though they'll again utilize the pairings that worked so well over the second half of Game 4. At the morning skate, Kane took rushes with Bickell and Toews and Hossa skated with Handzus and Sharp. "We didn't mind the way we were playing in the game," Joel Quenneville said about the Game 4 adjustments. "I think we talked about going into the game, we could do that if we don't like things, but we just didn't get enough offense. We still thought the way we were playing was the right way. We were fortunate to score right off the bat. I know it seemed to work. It was a situation where maybe you get a little bit more balance, something they got to look at, they may want to change their matchups. When it's not going well, you're behind, you don't mind trying things." Duncan Keith returns to the lineup and will skate with Brent Seabrook, with Niklas Hjalmarsson returning to play alongside Johnny Oduya.