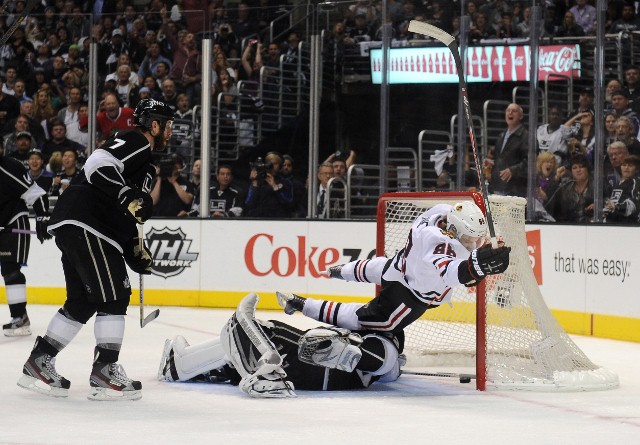 -Though the Los Angeles Kings' 3-2 loss to the Chicago Blackhawks appeared to hinge on a sequence of plays late in the second period and early in the third, Los Angeles' inability to take a two-goal lead weighed heavily in the defeat. Corey Crawford proved that it's not always about how many saves you make, it's when you make the saves, and his denial of chances on the shift that immediately followed Slava Voynov's goal, the Kings' power play that ensued, and his poke check on Justin Williams' breakaway four minutes into the second period with Los Angeles leading 2-1 were pivotal moments in the game.
-This has been a series that has been decided by even strength scoring, and that's not necessarily a good thing for the Kings. Los Angeles has averaged 1.4 even strength goals per game in the playoffs, a scoring output that has necessitated a razor-thin margin for error on the defense and in net. The two teams have combined for two power play goals in 26 chances, with the Kings' power play tally with 1:02 remaining in Game 2 having virtually no bearing on the game or the series. A short-handed Los Angeles squad with Mike Richards – who led the team in scoring when he was concussed by Dave Bolland on an unpenalized hit late in Game 1 – watching from upstairs and multiple players attempting to play through pain is significantly challenged in attempting to keep pace with a healthy Chicago Blackhawks team that earned points in 41 of 48 games this season.
-This is also a Kings team that has generally responded well when pushed into postseason must-win situations. Dustin Brown has discussed Darryl Sutter's strength in "getting that emotional level where it needs to be for individuals and the group," and the coach responding to an inquiry on how the team will come out in an elimination game with "I think you can answer that yourself, couldn't you?" is all kinds of Sutter-beautiful. It means little, but the Kings have won five of their last six Game 5s in which they trailed 3-1 in a playoff series, including a pair of 1-0 shutouts by Felix Potvin in the rarified air of the Pepsi Center in 2001 and 2002. Those games, coupled with Jonathan Quick's 51-save performance in a 3-1 win at San Jose in Game 5 of the teams' first round series in 2011 and Los Angeles' injuries and five-on-five scoring woes indicate that Quick will need to produce one of his signature efforts of the 2012-13 season on Saturday. More than one goal allowed by the Kings' 2013 playoff MVP may not be a strong enough performance to send the series back to Staples Center.