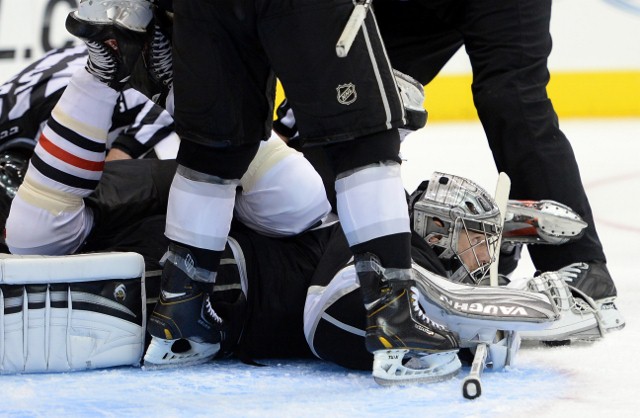 -While the Kings led by one after a rocky first period in Game 1 and performed quite well over the middle 17 minutes of the first period in Game 2 yet ended the period trailing 2-0, on Tuesday night the Los Angeles Kings both held a lead and opened with a strong 20 minutes in a 3-1 win over the Chicago Blackhawks. The Kings nearly led by two goals after the first when Drew Doughty's shot squarely hit the far post on a blast from the right circle with under a minute remaining. Any way that it can be written up – and this write-up may be somewhat similar to previous L.A. home games – this was one of the team's stronger 60-minute efforts of the postseason. It opened with a focused resolve led by Justin Williams' strong forecheck and offensive zone play that led to the first goal and closed with a third period in which the Kings never went into a defensive shell or utilized any form of prevent defense. I liked the way the Kings didn't alter their game in the third period and were still able to generate some zone time in the final 20 minutes despite Chicago's inevitable push, the desperation of which didn't begin in earnest until there were under five minutes remaining. While there were too many "holding on for dear life" moments in previous postseason wins, I never got that sense in Game 3.
-Though he didn't score – or even register a shot in over 21 minutes (!) – I thought Anze Kopitar's performance was an improvement from previous games of his in the series. When a player of Kopitar's caliber – or Brown's, as the case was against San Jose – is placed on the third line, it sends a message to the rest of the dressing room that the team's best players and members of the leadership committee will do whatever it takes to win a hockey game. Of course, Kopitar still saw nearly five and a half minutes of power play time – and no shorthanded time, even in Richards' absence, bizarrely – and in the third period saw a pair of shifts with Justin Williams and Dustin Brown.
-How about Matt Greene's third period hit on Nick Leddy, who decided to skate the puck into the Kings' end instead of chipping the puck deep? It developed into a quality Jeff Carter scoring opportunity in the other direction as he and Dustin Penner capitalized on an iffy Blackhawks line change and three Chicago forwards getting caught deep in the L.A. end on a late two-on-one.
-There were so many things to like about Justin Williams' first period goal. Following some pressure from behind the net by Colin Fraser, he strips the puck from Nick Leddy and stickhandles through tight quarters to create space as Leddy and Brandon Saad were unable to steal the puck back – with Saad getting away with a hook. After a wide shot and a Rob Scuderi – Slava Voynov exchange, the goal is set up beautifully with a Voynov slap/pass right back onto the stick of Williams, who beat a laterally-moving Corey Crawford with a quick snapper in between the goaltender and the near-post. Gorgeous goal.