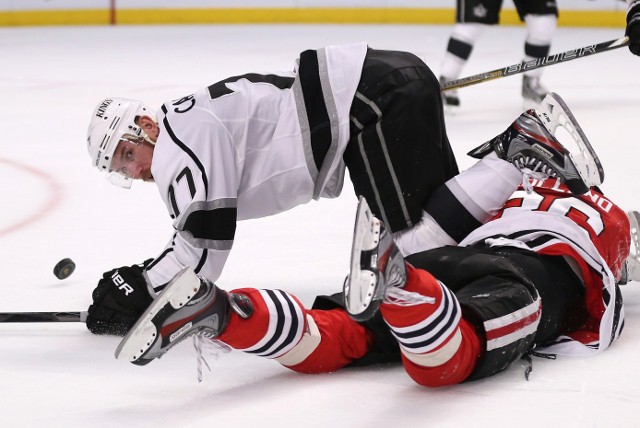 -We've heard familiar refrains in the Kings' locker room following postseason road losses. "They dominated most of the game." "The challenge for us is…'starting on time'." "You need to score on the road." All were applicable in a 2-1 loss to the Chicago Blackhawks in Game 1 of the Western Conference Finals that, like many previous road losses this spring, contained a lopsided run of play disguised by a narrow outcome. If the Kings are not able to rewrite this familiar road script, the defense of their Stanley Cup will come to an end one round shy of the team's ultimate goal. Helene Elliott articulates this topic well at LATimes.com.
-And yet once again, a one-goal game meant that the Kings were alive and kicking until the final buzzer – or at least until the final minor penalty assessed on Jeff Carter. For as much as the team has answered question after question about its road play this postseason, they have been in position to win every single one of those games. For only 40 minutes and 35 seconds this postseason – and only 9:46 in the third period – have the Kings trailed by two goals; they have never trailed by three. Heck, they haven't even given up three on the road. Jonathan Quick – aka, The Great Equalizer – stopped 34-of-36 shots on Saturday and actually saw his save percentage drop by a tenth of a percentage point from .948 to .947. It's an "if" as wide as Lake Michigan at this point, but if the Kings average decimal points more than two regulation road goals per game through the rest of the series, there's an awfully good chance they advance to the Final.
-I've read comments on this blog and on Twitter expressing support for Tyler Toffoli to get back into the lineup. There are also comments expressing concern over Dwight King's performance. More important than these sentiments are several key statistics:
1) The performance of the team's top players has fallen off this spring. In regular season points per game and playoff points per game, Anze Kopitar is .89 / .50, Dustin Brown is .69 / .29 and Justin Williams is .63 / .50. As Helene Elliott noted in the LA Times column linked above, there is a chance this is due to an injury to Kopitar or one of his linemates.
2) Jeff Carter, who led the league with eight game-winning goals in the regular season, has none in the playoffs. He was held in check in Game 1 and has one goal in six games. Only once during the regular season (March 11 – March 28: 1 G / 10 GP) did he experience such a drought.
Dwight King ranks eighth on the team in ice time, and Tyler Toffoli has averaged 9:13 of ice time per game. Any lineup changes Darryl Sutter would make would have a negligible impact on scoring; again, the Kings will score more goals if their top players increase their share of the scoring load.