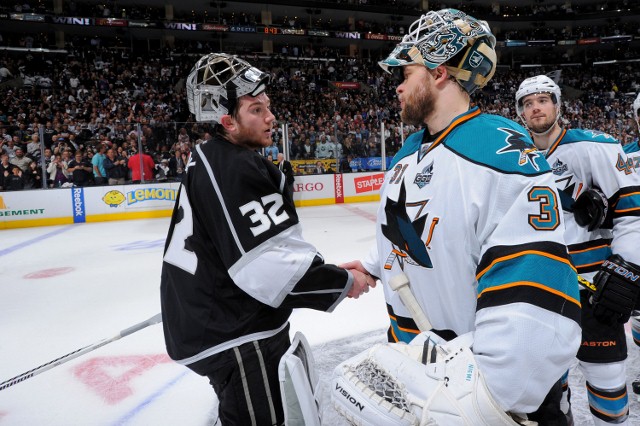 -The difference between the Los Angeles Kings and San Jose Sharks in the teams' Western Conference semifinal series could be measured by the amount of space in which Justin Williams' first goal crossed the goal line. This was a series decided by one or two inches over seven games. Williams' greasy goal early in the second period popped in. Moments later, Logan Couture's deflection – following a terrific spin-around attempt by Patrick Marleau – trickled inches wide. On the ensuing rush, Williams calmed down an Anze Kopitar pass and threaded a hard, low shot through a four or five inch seam between Antti Niemi's right pad and the right post. These were the distinguishing characteristics between two sound defensive teams with excellent goaltenders. Margin of victory has never been narrower in a Kings playoff series.
-After a first period in which the teams appeared tentative and playing to avoid making a mistake, the Los Angeles Kings took advantage of a Brent Burns penalty 190 feet from his own net. Burns' rambunctious net-presence had been a challenge for Kings defensemen in this series; I was thinking before the game that if there would be someone taking a hyper-caffeinated uncontrolled penalty in Game 7, there was a good chance it would be him. That wasn't necessarily the case, though in attempting to assert his presence deep in the Los Angeles zone he crossed the line in a net-front battle. Six of the seven penalties assessed in the game were either taken in the offensive zone or negated a power play, and the seventh penalty – the unsportsmanlike conduct infraction assessed on Jonathan Quick – shouldn't have even been called.
-The Sharks activated their defenseman in an attempt to generate more offense – as they had for many games in the series – and the Kings' wingers were excellent along the boards in winning puck battles and keeping the play mostly to the perimeter against the pinches. The only costly mistake along the boards was when no winger was able to control Kopitar's rim-around in the lead-up to Dan Boyle's goal, which led to Joe Pavelski being able to find Dan Boyle with ample space, and the veteran defenseman beat Quick with heavy traffic in front.
-If you're looking for another statistic that indicates how terrific Jonathan Quick's play has been outside of save percentage, goals against average and shutouts, here's one that I used earlier in the series: no team that has reached the Stanley Cup Final since the 2004-05 lockout has averaged less than the 2.32 goals per game that the Vancouver Canucks averaged in the 2011 postseason. The Kings have averaged exactly two goals per game this spring, and they're four wins away from providing a minor statistical outlier. Marleau, Pavelski and Logan Couture may spend some time analyzing their Game 7 looks on Quick – Marleau on a spin-around, Pavelski on a third period rebound, and Couture on a backhand, all Grade-A opportunities – as Quick's top saves Tuesday night stifled one of the Sharks' premier scoring lines.
-TJ Galiardi and Burns skated with Joe Thornton throughout the second half of the regular season and the entirety of the series, but was that a good thing? What, really, did Galiardi (two points) and Burns (one point) consistently provide against Los Angeles? Did Raffi Torres' absence handcuff Todd McLellan from being able to make adjustments that could have added some punch to San Jose's scoring? Torres had skated with Couture and Marleau, and when he was suspended, Joe Pavelski jumped up to that line. Did that keep McLellan from being able to adjust and add another skilled forward – Pavelski, perhaps? – to play alongside Thornton in the midst of the team's scoring woes? Thornton is one of the most gifted playmakers and a matchup nightmare for opposing teams, but he was playing with a forward who averaged .39 points per game in the regular season and a converted defenseman in this series.
-Red Wings or Blackhawks? Which hue of red and nasally-tinged Midwestern accent do you prefer, Kings fans?