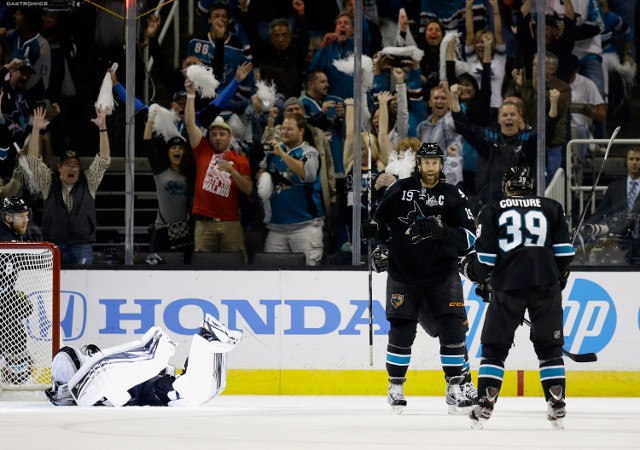 -For two periods there wasn't much to differentiate the Los Angeles Kings' Game 6 performance at HP Pavilion from performances in Games 3 and 4. Early penalty trouble, having to weather an early first period blitz and fighting from behind on the road were an unwelcome constant in second round games at the Shark Tank. Separating Sunday's game from previous road games in this series was that the Kings did not improve their performance as the game progressed and were kept mostly to the perimeter against a sturdy defensive performance by the Sharks over the final 20 minutes. Los Angeles found little success in driving towards the front of the net or creating any Grade-A opportunities as they were outshot 9-8 over the final 20 minutes and did not test Antti Niemi with the voracity that they had after falling behind 1-0 6:09 into the game. The veteran San Jose defense played a mistake-free third period, which shouldn't come as a surprise in a series that has seen an average of 3.5 goals scored per game. In the first round, the Kings and Blues combined to average 3.67 goals per game.
-Clearly the Kings' best moments in this game were late in the first period. Three posts and crossbars were hit – with Drew Doughty's rifle from the left circle deflecting off the crossbar representing both an excellent look and the epitome of the team's road scoring woes – and Niemi made the best saves he had made at any point in the series. Stops on Trevor Lewis, Dustin Brown and Justin Williams broke up the pings that ricocheted through the arena and represented the best sustained pressure by Los Angeles in Game 6. The Kings attacked the offensive zone in numbers throughout the second half of the first period and sustained pressure that they weren't able to consistently replicate later in the game.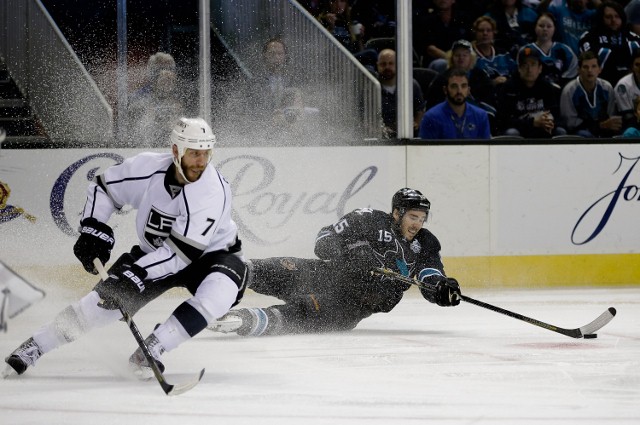 -Trevor Lewis took three shots, was credited with three hits and blocked two shots and was the team's best forward on Sunday, even if he won only three of 14 faceoffs. Despite his 34.3% faceoff success rate in the playoffs, he has admirably stepped into a new role in the absence of Jarret Stoll and has been among the team's best forwards in the second round.
-Through 12 playoff games, Anze Kopitar, Dustin Brown and Justin Williams have combined for 14 points. This has been a recurring theme throughout the playoffs, but if the Kings are going to win Game 7, some production will have to come from that crop of top players, even if they're not consistently aligned together. As Brown said after the team's Game 3 win over St. Louis, "It's really hard to win a game one-nothing."