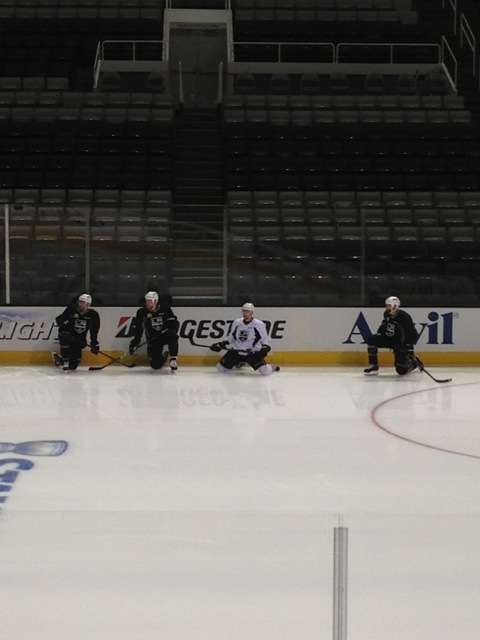 Projected Lines – Los Angeles
Dustin Brown – Anze Kopitar – Justin Williams
Dwight King – Mike Richards – Jeff Carter
Dustin Penner – Trevor Lewis – Tyler Toffoli
Kyle Clifford – Colin Fraser – Brad Richardson
Robyn Regehr – Drew Doughty
Rob Scuderi – Slava Voynov
Jake Muzzin – Keaton Ellerby
Jonathan Quick
Jonathan Bernier
-Though Darryl Sutter wouldn't confirm it, Kyle Clifford is likely to make his second round debut with the Kings after suffering an undisclosed injury in Game 5 of the first round. He would slot Tanner Pearson off the fourth line left wing. After taking part in warm-ups prior to Game 3, Matt Greene could be inserted into his first playoff action of 2013. Should he be ready to play, he would likely take the place of Keaton Ellerby. Jarret Stoll remains out with an upper-body injury.
Projected Lines – San Jose
TJ Galiardi – Joe Thornton – Brent Burns
Patrick Marleau – Logan Couture – Joe Pavelski
James Sheppard – Scott Gomez – Tommy Wingels
Andrew Desjardins – Tim Kennedy – Bracken Kearns
Matt Irwin – Dan Boyle
Marc-Edouard Vlasic – Justin Braun
Scott Hannan – Brad Stuart
Antti Niemi
Thomas Greiss
-Jason Demers, out since April 18 with a foot injury, could replace Bracken Kearns as a versatile player who could serve as both a fourth line right wing and a seventh defenseman. It would also provide flexibility for McLellan to use Thornton, Pavelski, or other players deemed useful as additional forwards on the fourth line. Adam Burish returned to practice on Monday and could return later in the series. Raffi Torres is suspended for the remainder of the series.