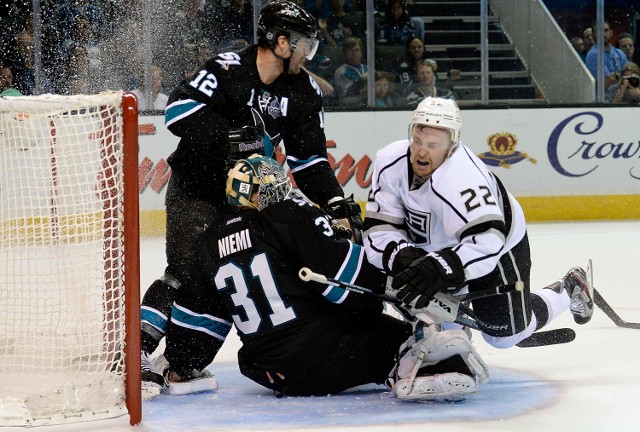 Several abbreviated thoughts on the San Jose Sharks' 2-1 overtime win over the Los Angeles Kings in Game 3 of their Western Conference Semifinal series:
-There were two late penalty calls that went against the Kings. You are aware of these calls. The first call, a hooking minor assessed on Robyn Regehr, occurred when the veteran defenseman's stick got caught in the midsection of the San Jose forward as he attempted to disrupt a pass towards the front of the net with roughly 44 seconds remaining in the third period. If a player puts a stick in that area as an attempt to fend off a scoring opportunity, it will be called 44 seconds into the first period and very likely with 44 seconds remaining in the third. No real controversy here.
The goaltender interference penalty on Trevor Lewis with three seconds remaining is obviously a much tougher call. Though Lewis made heavy contact in going full bore into Antti Niemi, I'm also watching the replay and questioning whether Patrick Marleau could be whistled for a hooking penalty. At first, Marleau defended the 2-on-1 as a backchecker as best as he could; his stick was at Lewis' feet as he harassed the Kings' forward from the entrance of the San Jose zone into the slot. By the time Lewis had left the puck for Mike Richards, Marleau's stick was up in Lewis' midsection. I don't know if it distracted Lewis or delayed his ability to stop, and upon watching the replays, I couldn't tell if there was a concentrated push by Marleau of Lewis into Niemi. It's a somewhat nebulous situation, and I can't fault the referee for calling goaltender interference.
-Rob Scuderi had the type of game that makes it easy to see why he has been a key defensive figure on two successful Stanley Cup runs. He tied sticks up as well as any Kings defenseman, he laid out to get in the way of passes while on the penalty kill, and he finished with a game-high six blocked shots.
-Injuries have reduced Darryl Sutter's forward options and necessitated the NHL debut of a 20-year-old in the second round of the Stanley Cup Playoffs. Tanner Pearson was fine in his first NHL game, though he only saw the ice once in the third period as the bench was shortened in a tight game. Pearson logged a total of 5:44, blocking one shot. What other options would you prefer? The Kings could receive an enormous boost should Kyle Clifford be given a clean bill of health, though with the lack of injury information released in the playoffs, it's nearly impossible to gauge his progress and when that might occur.