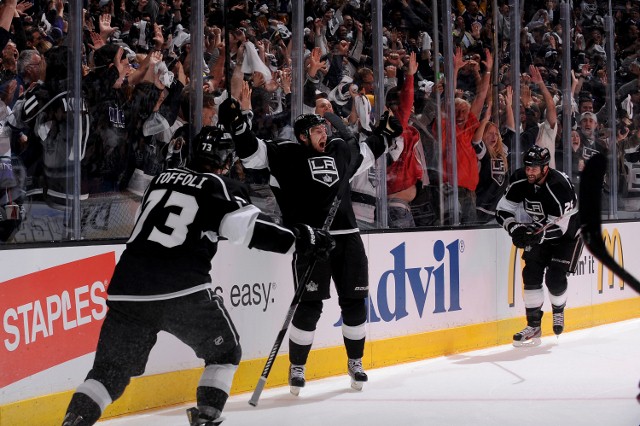 -When a team wins 12 consecutive late regular season and playoff games at home, there are going to be episodes of the dramatic, and on Thursday night at Staples Center, 10 days after Anze Kopitar and Justin Williams' third period go-ahead goals in Game 4 of the first round and six days after Dustin Penner's "McFlurry Miracle", Dustin Brown and Trevor Lewis scored in a span of 22 seconds to practically reach a zenith of spectacular, bedlam-inducing moments at Staples Center. Arena staff would be wise to check for cracks and potholes in the seating area from thousands of fans literally leaping up and down at their seats in unison to celebrate a moment that isn't quite as profound as the Miracle on Manchester or the Frenzy on Figueroa, but a significant franchise event that will carry its own historical weight. After the game, I rode an elevator down to the event level with the Black Aces. In what was more than a stunned silence, I actually heard one or two of them let out an astounded grunt as they peered out the elevator's window towards throngs of buzzed, delirium-induced fans streaming out of the arena, screaming "Go Kings Go" in unison. Way to leave an impression.
-There have been stretches in the 2013 Stanley Cup Playoffs where the Kings have been outplayed but managed to find ways to win. Game 2 leans towards that description. It is concerning that a team that allowed the third-fewest shots in the National Hockey League during the regular season has now allowed 66 shots through the first two games against San Jose. Dustin Brown and Trevor Lewis spoke last night about not having played a complete 60 minutes yet, with Brown adding that his line needs to start "figuring it out." The Kings will need the top line to take Brown's heed amidst the hostile HP Pavilion surroundings for Game 3, where the Sharks will be facing a pivotal moment in their 2012-13 season backed by the roar of one of the National Hockey League's loudest amphitheaters. It seems realistic to imagine that Jonathan Quick will face another 30 shots on Saturday, and if he can continue to make saves like the one below, the Kings will be well-backed to build on the momentum supplemented by Thursday night's win.
-San Jose recorded four shots on goal during the game's opening shift and required Jonathan Quick to find his rhythm early. In the other direction, Jeff Carter quickly released a beautiful, far-post shot that beat Antti Niemi off the rush on Los Angeles' first attempt on goal of the game. Carter's shot was terrific – really, who else in the league can fire off such a shot at top speed? – but during a game in which San Jose previously admitted a heightened need to win, that's a shot Niemi's teammates are counting on him to stop.
-Tyler Toffoli tied for a game-high five shots on goal, showed excellent possession instincts, demonstrated a cool poise while on the power play and kept his actions simple without forcing unnecessary actions. He drew the penalty on Brad Stuart that led to the first half of the late third period power play before cashing in with an assist by beating Stuart wide, and snapping a quick, low shot that rebounded directly onto the stick of Trevor Lewis for the game-winner. His third period was the best 20 minutes he has played as a King.
-Jarret Stoll's absence was felt inside the circle against one of the league's traditionally excellent faceoff teams as the Kings won only 32% of their draws. Mike Richards inherited a slightly larger role in faceoffs and won 6-of-19. This will continue to be a concern on the road for Games 3 and 4. Players found success on the penalty kill in Stoll's absence, with Kopitar-Brown, Richards-Carter, Richardson-Lewis and Fraser-Williams seeing adjusted minutes as part of a perfect penalty kill – though Patrick Marleau did score on a re-direct five seconds after the conclusion of a San Jose power play.