LA Kings Insider blogger KingsOfKomedy was credited with breaking the news of Raffi Torres' suspension, as noted on Twitter by Puck Daddy editor Greg Wyshynski.
Via comments here, NHL.com had Torres suspended for series headline, then took it down. bit.ly/110xcUI (s/t Ed B)

— Greg Wyshynski (@wyshynski) May 16, 2013
In the Quick hits with Tommy Wingels thread, KingsOfKomedy reported that NHL.com posted a headline that indicated Torres would be suspended for the remainder of the series. When the link was clicked on, the page had been removed. This appears to be the first widely disseminated documented report of the suspension.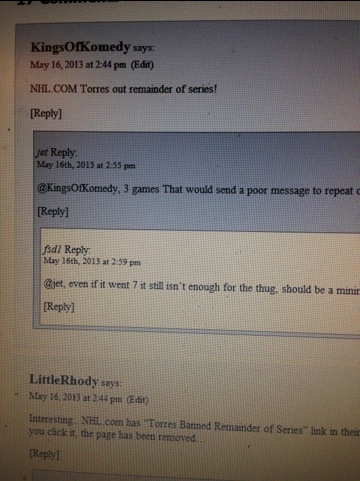 As Bunk Moreland says in The Wire, "You know what you need at a crime scene? Soft eyes."
-link contains mature language and content