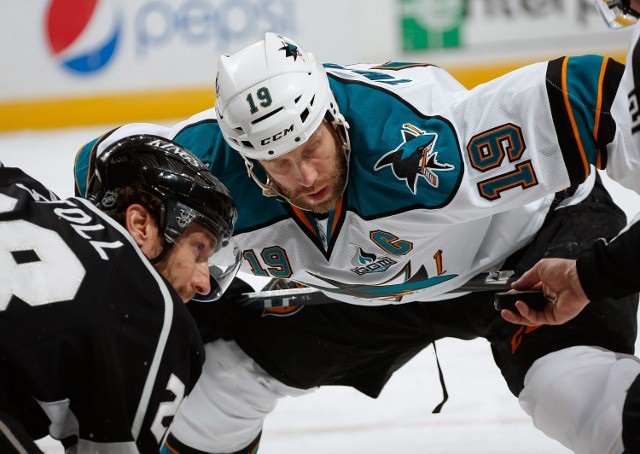 One of the challenges of facing San Jose in a playoff series is their perpetual success at the faceoff dot. Since the 2008-09 season, the Sharks have finished either first or second in the league in faceoff percentage.
"When it just comes down to it, it's a competitive part of the game," Joe Thornton told LA Kings Insider on March 14. "We just have some centers that compete and wingers that like to help out win draws."
San Jose ranked second in 2012-13 by winning 53.4% of their faceoffs; Los Angeles finished fourth with a 52.0% success rate. In the first round, the Sharks won 56.1% of their draws, while the Kings gradually improved from a series-low 36% performance in Game 1 to a series-high 53% performance in Game 6.
Logan Couture won 68.2% of the faceoffs he took in the Western Conference Quarterfinals. Thornton (58.5%) and Scott Gomez (55.9%) were San Jose's best faceoff men in the regular season, while Jarret Stoll (56.0%), Anze Kopitar (53.3%) and Jeff Carter (52.6%) were Los Angeles' regulars who finished above 50%.
"I think all their guys can take draws and are comfortable taking draws and have taken a lot over the course of their career," Stoll said. "Pavelski, Couture, Thornton, even Gomez – they're all good. They're all strong on their sticks. They all care. They want to win the draw. It's sometimes half the battle there, depending on who you're going against. It's obviously an important piece of the game right now in the playoffs. Special teams, faceoffs, D-zone draws, all those things. They're strong. They're a good team. We are, too."
Much like the regular season, the Kings showed improvement at the faceoff dot throughout the St. Louis series and closed the series out by winning between 50.9% of the faceoffs in Game 3 through Game 6.
"I think our team has been improving in the faceeoff circle game-by-game now, so now we've got to bring our best, because obviously you want to have possession as much as you can," Kopitar said.