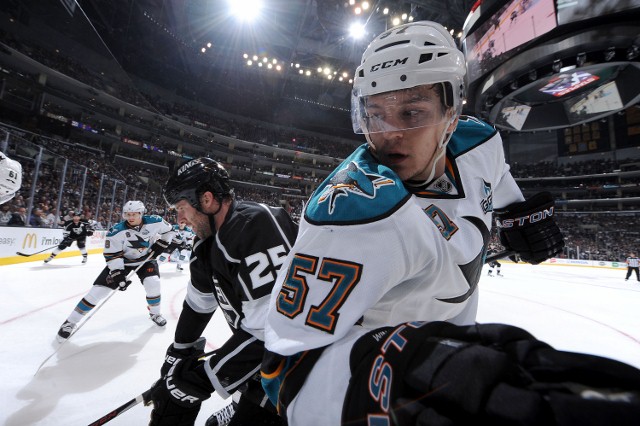 The fifth-seeded Los Angeles Kings will open the Western Conference Semifinals against the sixth-seeded San Jose Sharks this week at Staples Center. The NHL's official second round schedule is expected to be revealed upon the conclusion of the Washington-New York Rangers and Boston-Toronto Game 7s Monday night, though L.A.'s schedule could be leaked in advance.
The Kings-Sharks series will mark the first time Los Angeles has held home ice advantage in a playoff series since 1992, when they lost the Smythe Division Semifinals in six games to the Edmonton Oilers. That Kings-Oilers series was the third consecutive series L.A. opened at home. The last series Los Angeles won with home ice advantage was the 1991 Smythe Division Semifinals, when they defeated Vancouver in six games. That series victory was followed up with a six-game loss to Edmonton in the Smythe Division Final.
The Kings are 4-5 with home ice advantage all-time and 2-3 with home ice advantage in a best-of-seven series. Their first round defeat of the fourth-seeded St. Louis Blues was the team's 16th consecutive playoff series that opened on the road. The Kings did not have home ice advantage at any point in their 1993 and 2012 Stanley Cup Final appearances.
The only time Los Angeles and San Jose met in the playoffs was in the 2011 Western Conference Quarterfinals, which the second-seeded Sharks won in six games. The seventh-seeded Kings allowed 16 goals in their three home games, going 0-3 at Staples Center and 2-1 at HP Pavilion. San Jose won three games in overtime, including a series-clinching goal in Los Angeles by Joe Thornton in Game 6. Anze Kopitar did not participate in the series due to a broken ankle suffered in a 4-1 win over the Colorado Avalanche on March 26, 2011.
Kyle Clifford (3-2=5), Brad Richardson (2-3=5), Ryan Smyth (2-3=5) and Jack Johnson (1-4=5) tied for the scoring lead in the 2011 series against San Jose. Jonathan Quick posted a 3.16 goals against average and stopped 209 of 229 shots for a .913 save percentage.
The Kings finished 2-1-1 against the Sharks during the regular season, winning a pair of games at Staples Center and losing in regulation and a shootout at HP Pavilion. Including the shootout goal, Los Angeles outscored San Jose 13-11 in the season series. All four games were played between March 14 and April 27.
More statistics and analysis of the Western Conference Semifinals will follow Monday morning.