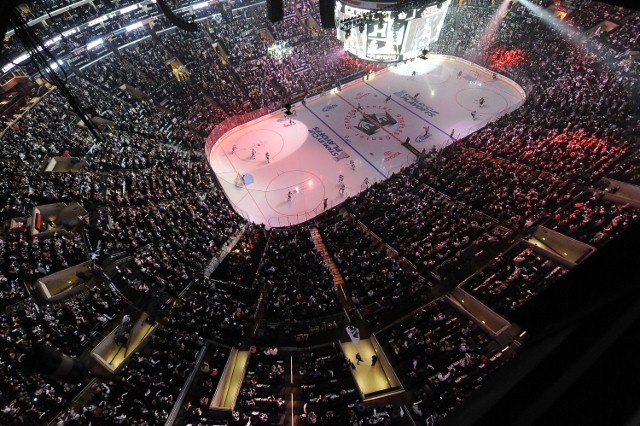 Opposing storylines have differentiated the 2011-12 Kings from the 2012-13 Kings despite much of the roster returning to defend the franchise's first Stanley Cup.
A year ago, the team's 22-14-5 home record represented the second-lowest home point accumulation out of the 16 teams that qualified for the Stanley Cup Playoffs. Only the Ottawa Senators, a fellow eight-seed that earned 44 out of a possible 82 points at home, entered the playoffs with a shakier home resume.
Los Angeles' 10-1 road record last spring – which came on the heels of a constructive 18-13-10 regular season record away from home – was a load-bearing pillar that allowed the team to jump out to 3-0 leads in every postseason series it took part in.
It's nearly a symmetrically opposed situation in 2012-13, a season in which the Kings have posted a 23-4-1 record at home between the regular season and the first round of the Stanley Cup Playoffs.
"One thing that every team says that they want is they want to make their home building a tough place to play in," forward Justin Williams said.
The Kings certainly have done so courtesy of their starts. The team has outscored its opponents 12-2 in the first period over its current 10-game winning streak that has bridged April and May. The two goals represented a 2-0 lead claimed by the Blues in the first 4:32 of Game 4 last Monday. Under 10 minutes later, the score was tied once again.
"We played well at home all year, but it seems like there's a sense of comfort when you're within our dressing room, and it's just the players in there, and you look around and you know what everyone's capable of, and you know that come crunch time, they're going to get it done for you," Williams said.
"I don't have any doubt in my mind that that's the case when other players look around the room as well, and that confidence is something that we've earned and something that we've been through, and we're feeling we can beat anybody."
Much of the reason that the Kings outscored their opponents 79-47 at home between the regular season and the first round of the playoffs can be traced back to an increasingly raucous Staples Center environment that has shed its status as one of the more middle-of-the-road home ice advantages, according to Williams.
"I'm not sure if Staples four or five years ago people or other teams shuddered that they had to come to the Staples Center to play," he said. "I don't think there was that feeling when you're with another team. But I think over the last little while we've made it a tough place to play, and that just doesn't include us. That includes the fans, too. The fans have done an awesome job of getting us revved up, especially for playoff games."
Of course, the margin for error isn't exactly razor thin when the crease is patrolled by Jonathan Quick, a netminder with a 1.45 goals against average and .945 save percentage over the last two postseasons.
"We've just been able to start off on the right foot," Williams said. "We've been able to get ourselves going mentally, and when we weren't ready to go right off the hop, we had a goalie that bailed us out."