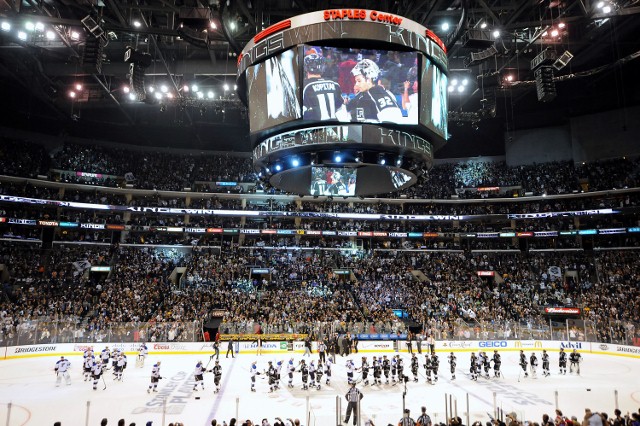 -What other Los Angeles Kings home memory compares with Dustin Penner's second period goal with 0.2 seconds remaining? There are obviously high points that capped off improbable comebacks – Daryl Evans' overtime winner in the Miracle on Manchester, Bryan Smolinski's game-tying goal and Eric Belanger's game-winning goal in the Frenzy on Figueroa – but when else has there been one singular moment that caused such a turnabout of fortune, an immediate rise with such a profound impact? The above goals, which capitalized on a rising surge of momentum? Overtime goals by Anze Kopitar and Jeff Carter in New Jersey last spring? Adam Deadmarsh's overtime goal to eliminate Detroit in 2001? Gary Shuchuk's double-overtime goal in Vancouver in the second round in 1993? Nice company, Penns. All the pent-up nervous energy in the building exploded with Penner's goal, which provided a major break at an important juncture in the series.
-One hallmark of the Darryl Sutter tenure is that Los Angeles continually finds ways to win against St. Louis. This is going to sound a touch too "sexy rah-rah" for someone such as Sutter, but it was why, from an I-want-to-work-deep-into-the-spring-and-not-have-to-write-player-evaluations-next-week-standpoint, I hoped that the Kings would meet the Blues in the first round, and not the Canucks or Sharks. My faith that Los Angeles would ultimately prevail in this series was shaken at times; it wavered in moments of Game 3 and the lead-up to Game 4. Other than Alex Pietrangelo's late goal in Game 5, the pivotal moments late in the series favored the Kings. Anze Kopitar and Justin Williams erased a third period deficit in Game 4. Slava Voynov scored a fluky overtime goal in which Jaden Schwartz disrupted his shot on a backcheck in Game 5. Penner in Game 6. Whether it is described as cerebral strength, intestinal fortitude, or any other type of buzz-cliché, Los Angeles simply wins games against St. Louis and will advance from a playoff series in which it outplayed its opponent in six periods. Is this just a flighty way of saying the Kings have excellent goaltending? Perhaps. But in a head-to-head matchup between two similar teams described during the series as a pair of "rams" butting heads, the Kings have won 12 of the last 14 meetings.
-The Kings' third and fourth lines were the team's better lines on the ice for much of Game 6. In addition to the crashing, banging and forechecking associated with the Penner-Stoll-Lewis line – and Penner's flair for the dramatic – Jordan Nolan stepped in seamlessly in place of Kyle Clifford, whose maintenance morning turned into a maintenance day. Nolan was winning his fair share of contested puck battles and allowed his line to see a healthy amount of offensive zone time. Tyler Toffoli has an awfully quick release and isn't afraid to shoot from anywhere on the ice; he's also not afraid to work along the boards or assert his burgeoning but still limited physicality in all three zones. He's showing the signs of developing into a good forechecker at the NHL level and possessing a strong hockey acumen that allowed him to score three shorthanded goals in the AHL earlier in the year.
-Ducks or Sharks, Kings fans? Is anyone planning on taking in Game 7 at Honda Center as an impartial observer?