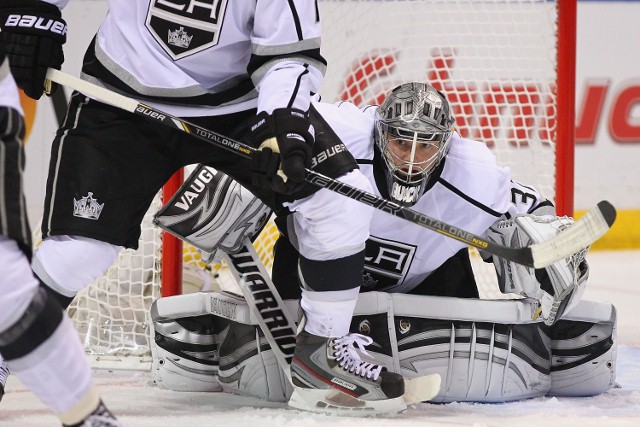 -The Los Angeles Kings will bring a three-games-to-two series lead over the St. Louis Blues back to Staples Center, where they've won nine in a row since a 1-0 loss to the Vancouver Canucks on March 23. It's a stat isn't as important as it sounds, considering the tight nature of a series in which the each of the first five games have been decided by one goal. Speaking of which, I asked Darryl Sutter last week what it would mean to the team should Jeff Carter and Anze Kopitar get going in this series. His response? "Just think they're gonna and then it'll be a one-goal game." Much like Sutter's Law – his revelation last spring that goaltenders, special teams, top players, unsung heroes and discipline help teams win playoff series – this Sutter character may know a thing or two about playoff hockey.
-Slava Voynov earned his second game-winning goal of the series with a tremendous effort to deny a scoring chance at one end of the ice and capitalize on one at the other. On a rush into the L.A. end, Alex Steen dropped the puck to Jaden Schwartz, whose shot from the left wing was deflected well wide of the net and off the end boards by Voynov. Jake Muzzin sent the puck off the glass to Quick's left, where Dustin Brown neutralized David Backes on a contested puck, effectively leaving the Blues' captain well behind the play as a rush developed in the other direction. Justin Williams picked up the loose puck and eventually freed up a high two-on-one between Kopitar and Voynov, who had soundly beaten Schwartz down the ice. Voynov was thinking glove high, but with pressure from Schwartz finally catching up to him, he snapped a fluttering puck that caught Brian Elliott by surprise and snuck through the goalie's five hole. Every King on the ice played a part in setting up the game-winner, which left Schwartz unhappy.
–As Puck Daddy mentioned, the Kings are undefeated in the last 10 games Voynov has scored a goal.
-Trevor Lewis played a Trevor Lewis-y playoff game. He was willing the puck out of the zone in key opportunities. He was winning boards battles and diving and extending himself to free loose pucks to his teammates. He is the consummate Western Conference-style of defensive forward who does so many little things that go unrecognized but play a huge role in helping teams win playoff games. Wednesday marked his best game of the series. Sutter, on Lewis: "He's a good two-way player for us, night in and night out."
-Tyler Toffoli passed his first postseason test with 16 shifts and 10:39 of ice time. In his overtime shift alongside Trevor Lewis and Mike Richards, the Kings attempted three shots, with two finding their way on net. The adjustment to seven defensemen appears to be a thing of the past; Toffoli certainly was effective enough in a depth role to warrant inclusion in Friday's lineup.