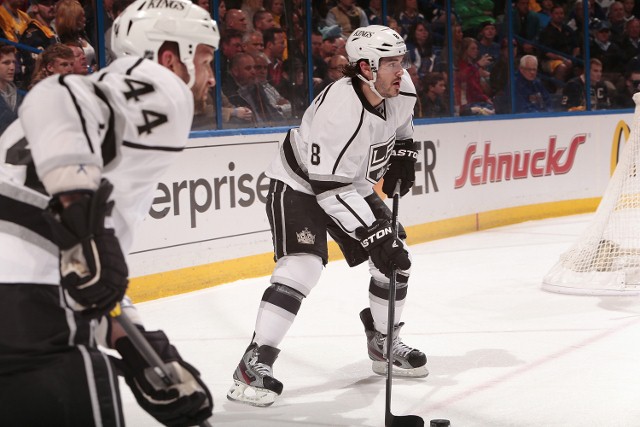 Alec Martinez, who has recorded two assists in two games since being placed in the Los Angeles Kings' lineup for the first time since April 2, is being asked to give a little bit more from Darryl Sutter – as is the rest of a young defense.
"So he's given us 12 minutes. Is 12 minutes enough? No. We need a little more in both ways – quality and quantity," Sutter said of Martinez following the team's morning skate at the Scottrade Center on Wednesday.
"Whether we like it or not, we are not a veteran defense. Marty…played a grand total of maybe a hundred games or whatever in the NHL. I don't even know. But he's got to play like one of our veterans. It can't be just Robyn and Drew and Slava and Robbie playing like veterans. You need everybody to."
The minutes Martinez has been able to provide have been encouraging. He has picked his opportunities to activate through the neutral zone and was a part of the reason the Kings found themselves in more odd-man rushes in Game 4 than they had experienced in the first three games of the series.
"He's brought a little bit more speed into our lineup. You know what? He hadn't earned his right to play, and we put him in when we were down two-nothing in the series," Sutter said. "Quite honest, he got hurt in here during the regular season the second or third shift of the game, and we had never seen him play at the level – whether it was confidence or compete, whatever it was – but he never got back to it. He didn't earn his right, very simple. He didn't play to his potential, and we were down in the series and we decided to put him back in."
Should Martinez be able to increase his workload from the 12:44 of ice time he has averaged, it will alleviate some of the heavy time allotted to Drew Doughty, Rob Scuderi, Robyn Regehr and Slava Voynov, all of whom are averaging over 20 and a half minutes of ice time per game in the playoffs.
Doughty's 28:34 of average playoff ice time ranks third in the league and is over two minutes more than the 26:23 he averaged during the regular season. Over a long series – especially one with the level of physicality as Kings-Blues – excess ice time has the potential to take its toll on a blue line.
"You'll see a difference in top guys, right? Guys who play lots of minutes, that's where you see it, and one of the issues you have always with top guys is they play special teams. Most of them kill and play on the power play, so you've got to be really careful just trying to manage it," Sutter said. "It doesn't sound like much, but a couple of minutes a game is a lot. If you look at the defensemen on both teams, three guys have played a lot, and you watch and see how they play."