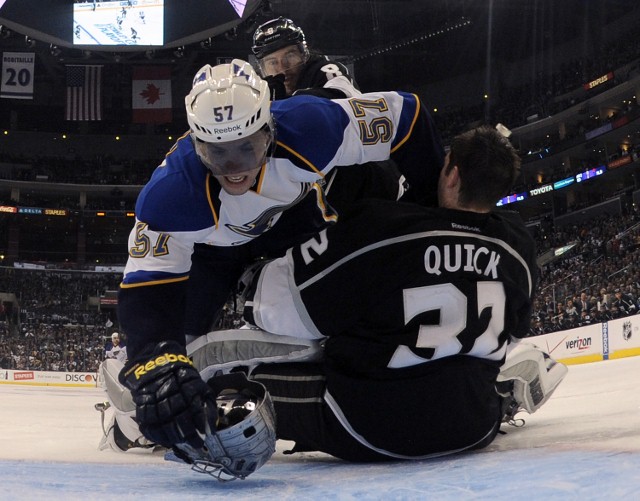 -After a strong 20 minutes, the Los Angeles Kings weathered the run of play that was decidedly against them for the final two periods and relied on a goal – at even strength! Off a shot by a defenseman! – by Slava Voynov and more tremendous work in net by Jonathan Quick to earn a victory in a critical game at Staples Center. As they did in Game 1, Los Angeles also benefited from St. Louis missing nets in opportune situations. They now trail a series by one game as their best players have not universally stepped up to become their best players. If Anze Kopitar and Jeff Carter start finding their way on the scoresheet somewhat frequently (let's not get too drunk on offense here; seven goals have been scored in three games), the advantage can shift back into Los Angeles' favor.
-Both teams relied on a healthy penalty kill Saturday night. Though the Kings' shorthanded play deserves recognition for its work on making zone entries difficult and keeping the Blues off the scoreboard late, St. Louis outshot L.A. 3-2 over the Kings' four power plays, and David Backes had as good of an opportunity as any King did during a contested breakaway and subsequent scrum while shorthanded midway through a scoreless first period. Goaltenders must be their teams' best penalty killers, and while the Kings were strong around the net and cleared up secondary opportunities, Quick was a heavy reason why the Kings were successful on the kill last night. The two teams are a combined 21-for-23 on the penalty kill in the series.
–The Kings utilized seven defensemen for the first time this season, and the inclusion of Alec Martinez seemed to pay dividends immediately as he jumped into a rush to create a 4-on-3 opportunity on his first shift and assisted on the game's only goal. He didn't win every battle behind the net and will be challenged at times against a heavy Blues forecheck, but his ability to jump into the play and positively affect Los Angeles' offensive cadence is a useful asset in a series where there's hardly an inch to be had. He didn't look like a player who had sat out for a month.
-Dwight King hasn't been the most popular player in the comments section of this blog, and his play over the first two games of the series was not at the level he demonstrated for much of the second half of last season. King was aggressive and quick to pucks on Saturday night, which was easily his best performance of the series and among his better games of the 2012-13 season.