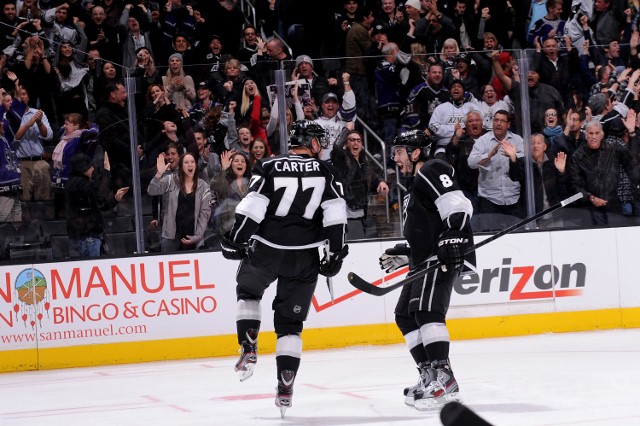 The Los Angeles Kings closed the regular season by winning their final seven home games, a streak that can be based heavily on their excellent starts.
The Kings haven't allowed a first period goal at Staples Center since Mason Raymond's breakaway tally in a 1-0 Vancouver win on March 23. Since then, they've outscored their opponents 9-0 in the first period while finishing April with a perfect 7-0 home record.
Drew Doughty identifies the noise inside the arena and the comforts of home as a heavy reason the team has engineered such strong starts within its friendly confines.
"We used the energy of the crowd. We knew they were important games, and to be able to do them at home, it's always the best thing. We come here, we get to sleep in our beds, we get to prepare in our own rink, and it's just the best possible thing for us. So we have to come out tonight and just use the energy of the crowd, bang bodies early, get a goal and never take the foot off the pedal," Doughty said.
The energy has grown since last year, according to Doughty, a factor in the team's 19-4-1 home record and franchise-best .813 points percentage.
"Ever since we won the Cup last year, the crowd seems like there's been more and more fans that are coming to games," he said. "We still have that core group who's always been a Kings fan, but now it's I think a little louder, and we use that energy from the crowd to play our game, and I think that's going to be the most important thing tonight – especially in that first period, the first couple shifts – is having all the energy we can burst out, and do what they did to us in the first game."
In Game 2, the line of Dustin Brown, Anze Kopitar and Justin Williams got the wheels rolling with an excellent first shift that concluded with Brown drawing a tripping call and an early power play that helped set the tone of a first period in which the Kings outshot the Blues 12-7 and led 1-0 after 20 minutes.
"First of all, we didn't have a turnover in the neutral zone, and then once we got in their zone, we got on their D and were able to stop the puck in the offensive zone," Kopitar said about Game 2's first shift. "I think that's where we're at our best, when we're cycling in their zone and trying to take it to the net and make plays off that."
Of the nine first period goals scored at home by the Kings in April, six came at even strength. Several Kings on Saturday expressed that in order to open up their even strength scoring in the series – they have a 6-on-5 and a 5-on-3 goal to their credit thus far – a "greasy" one will first have to find its way past Brian Elliott, similar to the goal Patrik Berglund scored to tie the game early in the third period on Thursday.
"I thought Game 2 we had more chances for those ugly goals," Kyle Clifford said. "They were there, they just didn't go in. Those can be a kick-start sometimes, so our mindset is just keep throwing pucks at him, keep driving to the net and making it hard on their defensemen."
It's a task made easier by a vociferous home crowd.
"Yeah, I mean you can draw off that energy," Brown said. "It's always fun playing here at Staples, especially at this time of year. The fans go to another level, and you definitely can get a little boost of energy, especially off the start off the atmosphere. It's important for us to use that the right way."