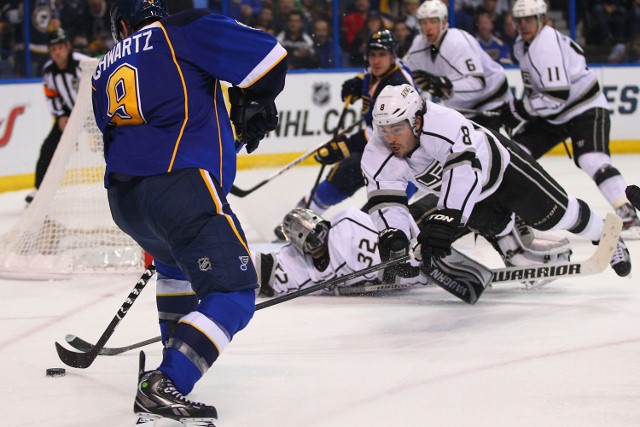 -The Los Angeles Kings are getting a thorough check of their mental fortitude in this best-of-seven series against the St. Louis Blues. The check comes specifically from the manner in which the first two games concluded following an overtime loss and St. Louis' comeback in a game in which they were being outplayed for the first 40 minutes. Though both teams do pride themselves on their defensive approach – Darryl Sutter referenced that the two teams finished second (St. Louis) and third (Los Angeles) in shots allowed during the regular season – the Kings had mere millimeters of space with which to work in the third period, and their hustle, battle and pressure game that had been so effective for 40 minutes evaded them in a difficult postseason loss.
-Los Angeles' first shot on goal in the third period game 9:08 in. By then they had been outshot 6-0 and had allowed a game-tying goal.
-The setup of the game-winner was an example of what must be done to produce a five-on-five goal in this series. On St. Louis' breakout, Vladimir Sobotka weathered a big Trevor Lewis hit in the neutral zone in order to advance the puck, developing the play into one of the few odd-man rushes seen in Game 2. Darryl Sutter's quote following Wednesday's practice of "Move pucks quick and you expect to get hit" is illustrated here. I'm not sure if Jonathan Quick was screened; it certainly appeared to be a stoppable shot. To blame Quick is to overlook his .940 save percentage over the first two games, and to discount the team's drop in play over the final 20 minutes as well as the lack of even strength scoring, which took a major hit in April. Los Angeles was outscored 24-19 in even strength regular season April games, and are yet to score a five-on-five goal in the Western Conference quarterfinals.
-The Kings received better production from their top players, though Anze Kopitar's performance did not rise as the game progressed, and Jeff Carter produced a somewhat quiet five-shot performance, though he was able to test Elliott early in the game with quick releases from the outside perimeter of the circles and was better than he was on Tuesday. L.A.'s two best forwards were easily Dustin Brown and Justin Williams, while Colin Fraser offered a performance that would suggest that he'll remain in the lineup for Game 3. I'd be interested to hear his choice of words to David Backes and Alex Pietrangelo during one particular stoppage in play, one of many post-whistle scrums in a highly emotional game.
Scrums after every stoppage. I don't think Colin Fraser was inviting any of the Blues to Sylvan Lake when he was jawing at them a bit ago.

— Helene Elliott (@helenenothelen) May 3, 2013
-Kings fans will notice an increase in the quality of minutes Brian Elliott has been able to provide his team when the series shifts back to Los Angeles. He has been stellar, and it isn't only because of the additions of Jay Bouwmeester and Jordan Leopold that have spread out and improved the minutes of the defense around him. Elliott isn't giving up inopportune goals, as he had in last year's playoff series and at times in head-to-head battles this season.