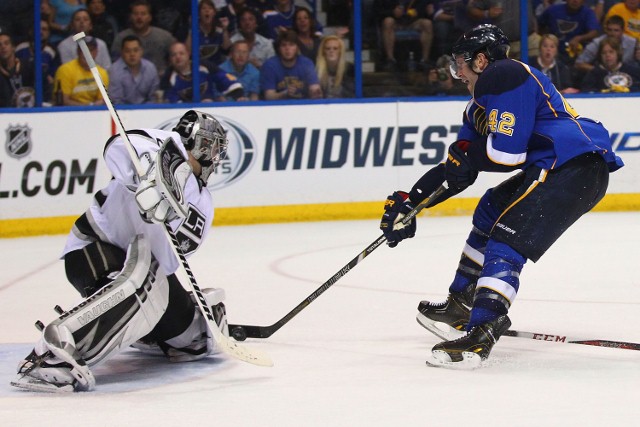 -The Los Angeles Kings almost snuck away with one last night before the Hockey Gods rewarded the St. Louis Blues with a just and deserved 2-1 overtime victory in Game 1 of the Western Conference Finals. In a more acute analysis of the conclusion, Alex Steen used one of his many hustle plays to force Jonathan Quick into a turnover behind his own net to score the shorthanded overtime game-winner as the Kings goaltender waited for Drew Doughty to get into position so that he'd be able to make a pass to the corner to start a breakout. Steen's goal came as both teams were attempting a line change 41 seconds into a four-minute Kevin Shattenkirk double minor in which Los Angeles wasn't able to set up in the offensive zone. Had this game gone the other way, it could have had a catastrophic effect on the psyche of a Blues team that ultimately beat the Kings for the first time in nine attempts. It didn't, and now the Kings are the team that must rebound from a Game 1 loss for the first time since the 2011 Stanley Cup Playoffs.
-Despite the miscue, Quick was the best player on the ice after Steen. His mid-second period point blank saves on Jaden Schwartz were reminiscent of the saves he made on Andy McDonald early in Game 1 of last year's playoff series, while his third period save on a backhand-forehand David Backes move on a partial, contested breakaway (see above) began to shift the momentum towards Los Angeles in the third period of a one-goal game. At the other end of the ice, Brian Elliott was in the form that he had displayed for much of April, when he was named the NHL's second star for the month. He looked behind himself once or twice in overtime but made important saves when facing intermittent pressure earlier in the game, including getting what appeared to be a skate on a Jeff Carter shot that hit the post during L.A.'s late first period power play.
-Daryl Evans made a point of highlighting special teams in our KingsVision Game 1 preview yesterday, and he was on to something. Of the 10 goals scored in last night's playoff games, only two were scored during five-on-five play. Of the remaining eight goals, five were scored on the power play, while a shorthanded goal, a 6-on-5 goal and an empty net goal rounded out the scoring.
-I'll be continuing these thoughts with host Mike Ross on NHL Network Radio at 7:45 am PT, accessed at SIRIUS 207 / XM 92. If you're free, I hope you'll give us a listen.