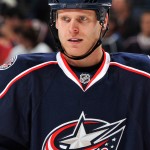 The Manchester Monarchs dropped the first two games of their best-of-five playoff series against the Springfield Falcons in overtime and will need to rebound with a three-game winning streak if they are to reach the second round of the Calder Cup Playoffs.
Cody Bass scored the overtime game-winner in both games.
On Saturday, Blake Parlett scored the go-ahead goal for the Falcons (Columbus Blue Jackets) on a second period penalty shot before Brian O'Neill equalized for the Monarchs with 8:49 remaining in the third. Nick Deslauriers and Andy Andreoff recorded assists on O'Neill's goal.
After Manchester was unable to clear its zone during Springfield pressure, Bass redirected a Ryan Russell centering feed from close range past Martin Jones, who made 33 saves on 35 shots.
On Sunday, a first period Deslauriers power play goal erased an early 1-0 deficit before Anthony Stewart scored late in the second to give the Monarchs a 2-1 lead heading into the third period.
The Falcons tied the game at two on a David Savard power play goal with 12:49 remaining in the third.
Bass' second overtime game-winner came at the 18:44 mark when he backhanded a rebound past Jones, who made 35 saves on 38 shots. Manchester was 1-for-3 on the power play, while Springfield was 1-for-8.
"The team battled extremely hard and deserved better fate," Monarchs Head Coach Mark Morris told ManchesterMonarchs.com. "The ice was tilted toward the penalty box and we endured lots and lots of shorthanded situations. This one is a tough pill to swallow. We thoroughly outplayed them in the overtime, out shooting them and out chancing them. We had a couple near misses and in the end another penalty ultimately cost us dearly. It's hard to find fault in the effort but we'll need to find some scoring touch and stay out of the box."
Game three will be played at Verizon Wireless Arena in Manchester on Thursday at 4:00 pm PT. Game four, if necessary, will be played in Manchester at 4:00 pm PT on Saturday. Should the series be extended to a fifth game, it would be played in Springfield at 1:00 pm PT on Sunday.
In other American Hockey League news, eight-seed Hershey (Washington Capitals) will return home with a two-games-to-none series lead on top-seeded Providence (Boston Bruins). For the full Calder Cup Playoffs bracket, click here.