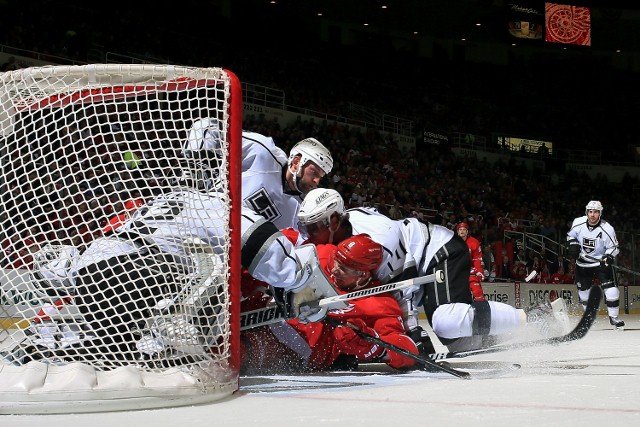 -The Los Angeles Kings concluded a two-game Midwestern roadtrip without a point following a 3-1 loss to the Detroit Red Wings Wednesday night at Joe Louis Arena. Coupled with San Jose's loss in Phoenix, the door is now open for the St. Louis Blues to leapfrog the Kings and Sharks and finish in fourth place should they win their final two games against Calgary (tonight) and Chicago (Saturday night). The Blues-Blackhawks game begins at 5:00 pm PT and will be ending at approximately the same time the Kings-Sharks game gets underway. Should St. Louis not take a maximum four points from its remaining two games, the Kings would capture home ice advantage in a playoff series for the first time since 1992 should they defeat the Sharks. Obviously, updates and analysis of the developing scenarios will be posted on LA Kings Insider.
-After weathering the a storm in the first period and taking an early second period lead last night, Los Angeles was pressured into too much holding on for dear life over the remainder of a game it was out-shot, out-chanced and lost the possession and faceoff battles. This isn't overly concerning; it was another example of the travel schedule working against L.A., combined with the absence of Dustin Brown and the imbalance of priorities between a team that had already locked up a playoff berth and a fourth straight opponent fighting tooth and nail for its own postseason right. The concern is less on last night's loss and more on the larger scope: the Kings have only three road wins (St. Louis x2, Chicago) against teams currently in the top eight spots in the west. Chipping away at that brick of concern is that Jonathan Quick has vastly improved his play in April, posting a 5-3-1 record with a 2.28 GAA and .917 Sv% as he has raised his game in advance of the playoffs.
-Scoring has been inconsistent in April as Los Angeles has been outscored 23-16 at even strength, which includes a 4-on-4 overtime game winner by Jeff Carter over Dallas last Sunday. Only once in the last eight games (4-3 OTW vs DAL; 4/21) have the Kings scored more than one even strength goal. There are obviously many factors that weigh into this – the team's effective power play doing much of the lifting is one – though Anze Kopitar's one goal in his last 15 games has kept the team's scoring pace below what it had been through much of the season. Though he has 11 assists over the span, leads the team with 41 points and will never be faulted for his defensive, playmaking or puck possession efforts, Kopitar last scored in the team's 5-4 win over Chicago on March 25. Of course, everything resets to zero after April 27.