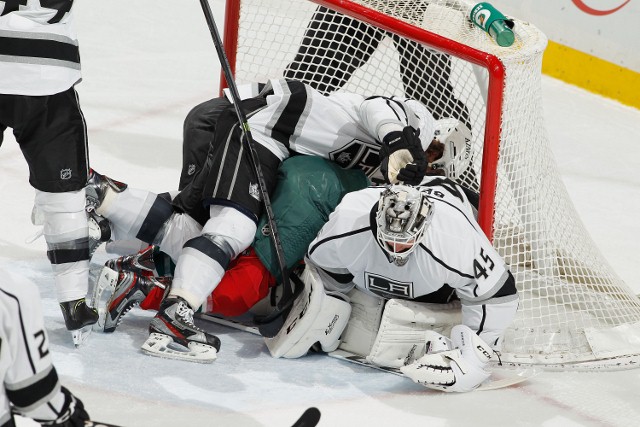 Several abbreviated notes on last night's 2-1 loss to the Minnesota Wild:
-For the first time in the past week, the Los Angeles Kings were unable to match the intensity of a desperate opponent and fell 2-1 to a Minnesota Wild outfit that controlled the first 40 minutes of the game. The Kings posted a strong final 20:01 to make the game competitive late with some dominant puck possession, but other than Niklas Backstrom's tremendous calf save on Slava Voynov with 11 seconds left, there weren't a surplus of Grade-A chances in the third period for L.A.
-Speaking of Carter's wrister with 0.8 seconds remaining in the second period, it came off his stick so quickly that it could hardly be seen in real time. Was it teleported? Credit Anze Kopitar for getting in on the forecheck to make a hit on Jared Spurgeon, and for Brad Richardson to immediately offer the loose puck to a slot-crashing Carter, who had come off the bench shortly beforehand. It was one of the few instances of an effective Los Angeles forecheck last night.
-At 8-11-4, the Kings' road record is a significant concern. Los Angeles is 3-6-3 in its previous 12 away games, a road stretch in which it has allowed 40 goals (not including shootouts) for an average of 3.33 goals against per game. Jonathan Quick and Jonathan Bernier have combined to stop 548 of 614 shots (.893%) away from Staples Center this season. In advance of the playoffs, it would greatly benefit the Kings to rebound with not just a strong 60 minutes of hockey, but a key road victory in their final Western Conference matchup against the Detroit Red Wings tonight.
-More on Dustin Brown's hit on Jason Pominville will come this afternoon.