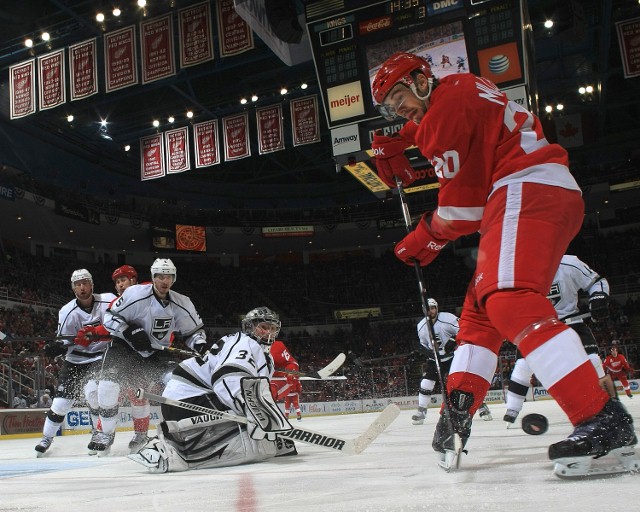 Los Angeles Kings (26-15-5) at Detroit Red Wings (21-16-8)
Wednesday, April 24, 2013, 7:30 pm ET
Joe Louis Arena, Detroit, Michigan
Referees: #10 Paul Devorski, #16 Brian Pochmara
Linesmen: #74 Lonnie Cameron, #92 Mark Shewchyk
Los Angeles Projected Starting Goaltender – Jonathan Quick
Season: 35 GP (34 GS) / 17-12-4 record / 2.44 GAA / .901 Sv% / 1 SHO
Career vs Detroit: 16 (16) / 6-10-0 / 3.15 / .899 / 1
Last Game vs Detroit: 2/10/13 / 60 MP / 28-31 shots / 2-3 L
2012-13, Away: 18 (18) / 5-8-3 / 3.12 / .889 / 0
Detroit Projected Starting Goaltender – Jimmy Howard
Season: 39 (39) / 18-13-7 / 2.22 / .921 / 4
Career vs Los Angeles: 12 (12) / 6-6-0 / 2.69 / .916 / 0
Last Game vs Los Angeles: 2/27/13 / 59 MP / 27-29 shots / 1-2 L
2012-13, Home: 22 (22) / 11-7-4 / 2.18 / .922 / 3
Los Angeles Leaders
Total Points: Anze Kopitar (10-31=41)
Goals: Jeff Carter (26-7=33)
Assists: Anze Kopitar (10-31=41)
Plus/Minus: Anze Kopitar (+14; 10-31=41), Justin Williams (+14; 10-21=31), Jake Muzzin (+14; 7-9=16)
Penalty Minutes: Keaton Ellerby (52*; 0-3=3)
*36 of Ellerby's penalty minutes came as a member of the Florida Panthers.
Detroit Leaders
Total Points: Pavel Datsyuk (13-28=41)
Goals: Pavel Datsyuk (13-28=41)
Assists: Henrik Zetterberg (9-32=41)
Plus/Minus: Pavel Datsyuk (+15; 13-28=41)
Penalty Minutes: Jordin Tootoo (78; 2-4=6)
A stick tap goes to: The Los Angeles-Detroit rivalry. In this final Western Conference game between the Kings and Red Wings, pour out the top of your drink in honor of the two L.A.-Detroit series from last decade. Come to think of it, Kings fans will probably want nothing to do with the 2000 series, a four game sweep at the hands of the Wings in the first ever playoff matchup between the two former Norris Division (1974-1981) and eventual Campbell Conference (1981-1993) and Western Conference (1993-2013) foes. But the 2001 series does bring back wonderful memories for Kings fans, and despite the red-clad visitors that would invade The Forum and Staples Center backed by enthusiastic supporters, there should always be the appreciation of some extremely gifted players who visited Los Angeles and provided wonderful sports theater. More from a nostalgic than a competitive standpoint, it's disappointing to see the Red Wings move east. And lest you pour out too much of your drink in tribute, save a few sips to toast the Pacific Division's final game on Saturday night when the Kings host the Sharks.
A fist shake goes to: Joe Louis Arena. Though the Kings are 80-76-4 (with 27 ties) overall against the Red Wings since entering the league in 1967, Joe Louis Arena has been a house of horrors since the turn of the millennium. Los Angeles is 4-14-3 with a tie in Detroit since the 2000-01 season, a stretch that began with a six-year winless period.
Why the Kings need to win this game: The Kings don't want to surrender the momentum they've gradually accumulated as the season has progressed by losing their grip on home ice advantage over the final week of the season. Los Angeles has not had home ice advantage in a playoff series since 1992.
Rankings and Statistics
Goals/Game: LAK – t-10 / 2.76; DET – 21 / 2.47
Goals Against/Game: LAK – t-7 / 2.37; DET – 9 / 2.38
Power Play: LAK – 10 / 20.4%; DET – 15 / 18.5%
Penalty Kill: LAK – 9 / 83.4%; DET – 15 / 81.0%
Shots/Game: LAK – 11 / 30.0; DET – 12 / 29.7
Shots Against/Game: LAK – 3 / 24.7; DET – 9 / 28.0
Faceoffs: LAK – 4 / 52.1%; DET – 11 / 50.5%
Save Percentage: LAK – 18 / .904; DET – 12 / .915
Projected Lines – Los Angeles
Mike Richards – Anze Kopitar – Jeff Carter
Dustin Penner – Jarret Stoll – Justin Williams
Dwight King – Trevor Lewis – Tyler Toffoli
Kyle Clifford – Brad Richardson – Jordan Nolan
Robyn Regehr – Drew Doughty
Rob Scuderi – Slava Voynov
Jake Muzzin – Matt Greene
Jonathan Quick
Jonathan Bernier
Notes: The above line projection is based on Brown's suspension, Toffoli's call-up, the developments of yesterday's game, and Darryl Sutter's assertion that Mike Richards, Anze Kopitar and Jeff Carter played together during a media session earlier today. Brad Richardson is also a versatile player with the potential to move up to left wing on the top two lines if Richards, Kopitar and Carter do not skate together. Matt Greene is a candidate to be replaced by Keaton Ellerby, though I'm leaning towards Greene playing on both nights of a back-to-back set. The Kings are 23-10-3 in their last 36 games, outscoring their opponents 106-79, not counting shootout goals. Los Angeles has killed off 17 consecutive penalties over the last seven games and is 49-for-54 on the penalty kill (90.7%) over the last 19 games. The Kings are 33-for-139 on the power play (23.7%) over the last 42 games. Jeff Carter leads the league with eight game-winning goals and is venturing to become the first King to ever lead the league in that statistic. As always, line projections are educated assessments and not definite alignments.
Projected Lines – Detroit
Henrik Zetterberg – Pavel Datsyuk – Justin Abdelkader
Valtteri Filppula – Johan Franzen – Danny Cleary
Gustav Nyquist – Joakim Andersson – Damien Brunner
Patrick Eaves – Cory Emmerton – Jordin Tootoo
Niklas Kronwall – Jonathan Ericsson
Kyle Quincey – Brendan Smith
Danny DeKeyser – Jakub Kindl
Jimmy Howard
Jonas Gustavsson
Notes: Lines via NHL.com's At the Rink blog. Todd Bertuzzi is expected to return to the active lineup for tomorrow's home game against Nashville. Detroit is 6-4-1 in the first game of back-to-back sets. Pavel Datsyuk has four goals in his lasgt four games against Los Angeles. Henrik Zetterberg has seven points (3-4=7) in his last six games against Los Angeles. As always, line projections are educated assessments and not definite alignments.