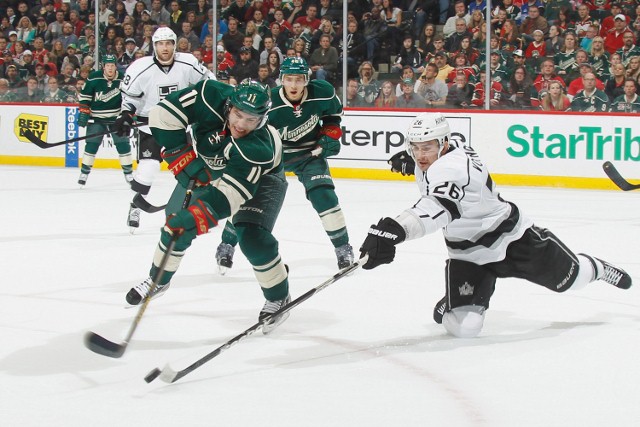 Los Angeles Kings (26-14-5) at Minnesota Wild (24-18-3)
Tuesday, April 23, 2013, 7:00 pm CT
Xcel Energy Center, St. Paul, Minnesota
Referees: #9 Dan O'Rourke, #21 Don VanMassenhoven
Linesmen: #80 Thor Nelson, #73 Vaughan Rody
Los Angeles Projected Starting Goaltender – Jonathan Bernier
Season: 13 GP (11 GS) / 9-2-1 record / 1.86 GAA / .922 Sv% / 1 SHO
Career vs Minnesota: 5 (5) / 3-0-2 / 0.97 / .960 / 3
Last Game vs Minnesota: 4/4/13 / 60 MP / 23-23 shots / 3-0 W
2012-13, Away: 6 (4) / 3-2-1 / 2.20 / .901 / 0
Minnesota Projected Starting Goaltender – Niklas Backstrom
Season: 39 (38) / 22-14-3 / 2.50 / .908 / 2
Career vs Los Angeles: 18 (17) / 7-6-3 / 2.54 / .911 / 2
Last Game vs Los Angeles: 4/4/13 / 3 MP / 0-2 shots / 0-3 L
2012-13, Home: 20 (19) / 11-7-2 / 2.16 / .915 / 1
Los Angeles Leaders
Total Points: Anze Kopitar (10-31=41)
Goals: Jeff Carter (25-7=32)
Assists: Anze Kopitar (10-31=41)
Plus/Minus: Justin Williams (+15; 10-21=31)
Penalty Minutes: Keaton Ellerby (52*; 0-3=3)
*36 of Ellerby's penalty minutes came as a member of the Florida Panthers.
Minnesota Leaders
Total Points: Zach Parise (17-19=36)
Goals: Zach Parise (17-19=36)
Assists: Ryan Suter (4-28=32)
Plus/Minus: Matt Cullen (+7; 7-19=26)
Penalty Minutes: Zenon Konopka (100; 0-0=0)
A stick tap goes to: Second Periods. The Kings and Wild have combined to outscore their opponents 94-78 and outshoot their opponents 957-740 in second periods this season. Though Los Angeles has outscored and outshot their opponents in each period in regulation, Minnesota has been outshot and outscored in the first and third periods in 2012-13.
A fist shake goes to: Minnesota's penalty killing. The Wild has gone three games without killing off a penalty, as Edmonton, San Jose and Calgary have combined to score five goals on five opportunities. If you want to shake both fists, Minnesota has scored either no goals or one goal in five of its last nine games.
Why the Kings need to win this game: Why change what I wrote on Sunday? It's still applicable: the Kings want to be playing their best hockey as they enter the playoffs. Earning home ice advantage for the first time since 1992 would be a major bonus; Los Angeles has opened its last 15 series on the road.
Rankings and Statistics
Goals/Game: LAK – 8 / 2.80; MIN – 19 / 2.49
Goals Against/Game: LAK – t-8 / 2.38; MIN – t-14 / 2.60
Power Play: LAK – 10 / 20.5%; MIN – 16 / 17.9%
Penalty Kill: LAK – 9 / 83.3%; MIN – 21 / 80.2%
Shots/Game: LAK – 10 / 30.2; MIN – 18 / 28.6
Shots Against/Game: LAK – 3 / 24.7; MIN – t-5 / 27.3
Faceoffs: LAK – 4 / 52.1%; MIN – 3 / 52.5%
Save Percentage: LAK – 17 / .904; MIN – 16 / .905
Projected Lines – Los Angeles
Dustin Brown – Anze Kopitar – Justin Williams
Dustin Penner – Mike Richards – Jeff Carter
Dwight King – Jarret Stoll – Trevor Lewis
Kyle Clifford – Brad Richardson – Jordan Nolan
Robyn Regehr – Drew Doughty
Rob Scuderi – Slava Voynov
Jake Muzzin – Matt Greene
Jonathan Bernier
Jonathan Quick
Notes: The Kings are 23-9-3 in their last 35 games, outscoring their opponents 105-77, not counting shootout goals. Los Angeles has killed off 16 consecutive penalties over the last six games and is 48-for-53 on the penalty kill (90.6%) over the last 18 games. The Kings are 33-for-138 on the power play (23.9%) over the last 41 games. The Kings have averaged 32.9 shots per game over the last 14 games (460 shots / 14 games). Jeff Carter leads the league with eight game-winning goals. Slava Voynov will play in his 100th career game tonight. As always, line projections are educated assessments and not definite alignments.
Projected Lines – Minnesota
Zach Parise – Mikko Koivu – Charlie Coyle
Cal Clutterbuck – Matt Cullen – Devin Setoguchi
Pierre-Marc Bouchard – Kyle Brodziak – Jason Pominville
Jake Dowell – Zenon Konopka – Torrey Mitchell
Ryan Suter – Jonas Brodin
Clayton Stoner – Jared Spurgeon
Justin Falk – Tom Gilbert
Niklas Backstrom
Josh Harding
Notes: Lines via NHL.com's At the Rink blog. Minnesota recalled G Josh Harding, F Jake Dowell and F Stephane Veilleux from AHL-Houston on Monday and reassigned G Darcy Kuemper, F Mikael Granlund and F Jason Zucker. The Wild has not won at home since its 4-3 shootout win over the Kings on March 30. Since then, Minnesota has lost to St. Louis (twice), Chicago and Calgary in regulation and Columbus in a shootout at Xcel Energy Center. Minnesota is 3-7-1 overall since its shootout win over Los Angeles and has been outscored 10-2 by San Jose and Calgary over its last two games. Ryan Suter leads the NHL in time on ice per game, averaging 27:06. He topped 30 minutes of ice time for the fourth time in his last eight games with 30:46 in a 4-1 loss to Calgary on Sunday. As always, line projections are educated assessments and not definite alignments.