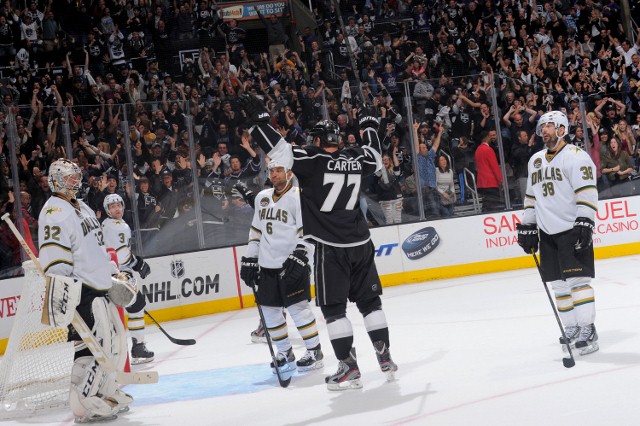 -The Los Angeles Kings took a circuitous route to a hard-earned and deserved victory over the Dallas Stars while benefitting from the cross-conference benevolence of the Columbus Blue Jackets, Colorado Avalanche and the Calgary Flames. By virtue of how the chips fell Sunday evening, the Kings assured themselves of no worse than a sixth place finish, while their chances of securing the fourth seed and home ice advantage in the first round of the Stanley Cup Playoffs increased to 82.0%, according to SportsClubStats.com.
-The officiating. The win quieted what would otherwise have been a hot-blooded topic following the game, as Ryan Garbutt set up Antoine Roussel's game-tying goal in the second period by leaping and playing the puck with a blatant high-stick. Early in the third period, an apparent Kings goal was disallowed before Alex Goligoski scored at the other end of the ice shortly following the reset. You are probably well aware of these plays. On the former, the officials simply missed the high-stick. Because it occurred on the play leading up to the goal and not the goal itself, it was not a reviewable play by video evidence. Regarding the latter, Aaron Rome simply misread his position on the ice while turning towards his net and crashed into Kari Lehtonen without any assistance from Trevor Lewis. As Dustin Brown noted after the game, it was a judgment call by referee Mike Hasenfratz, and it went against LA. On the go-ahead goal by Goligoski 33 seconds after play resumed, Quick wasn't able to recover after moving outside his crease to challenge Reilly Smith, who had slipped behind Rob Scuderi.
-Brown's equalizer that came 2:16 after Goligoski's goal is the exact type of power play goal the team is looking for and an example of the team's spirited man advantage, which now has goals in eight straight games. Every skater on the Kings was able to touch the puck within five seconds (see below). The goal was a result of crisp puck movement, a quality opportunity from a wide-open Jeff Carter in the high slot, and Brown well-positioned to capitalize on a rebound.
-This isn't exactly breaking news, but Anze Kopitar's puck possession skills appear to be as good as those of any player in the NHL. One player who comes to mind when watching Kopitar protect the puck in the offensive zone is Jaromir Jagr, who I was grateful to have been able to watch in the Pacific Division for half a season. Both are aided by their size, width and balance; you rarely see either player weather a heavy hit from the opposition.