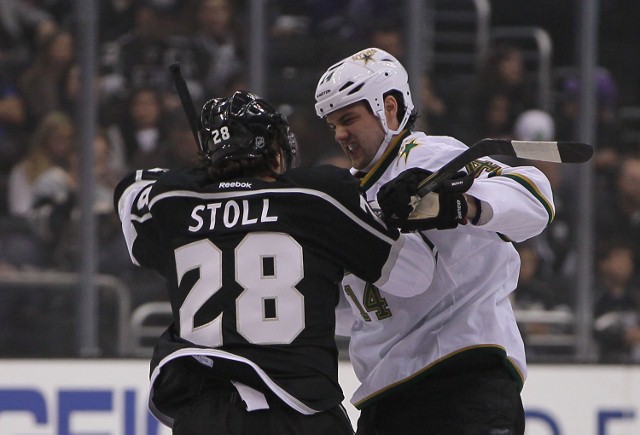 Los Angeles Kings (25-14-5) vs Dallas Stars (22-19-3)
Sunday, April 21, 2013, 6:00 pm
Staples Center, Los Angeles, California
Referees: #2 Mike Hasenfratz, #3 Mike Leggo
Linesmen: #57 Jay Sharrers, #88 Mike Cvik
Los Angeles Projected Starting Goaltender – Jonathan Quick
Season: 34 GP (33 GS) / 16-12-4 record / 2.43 GAA / .901 Sv% / 1 SHO
Career vs Dallas: 21 (20) / 13-6-2 / 2.38 / .915 / 2
Last Game vs Dallas: 4/9/13 / 60 MP / 26-31 shots / 1-5 L
2012-13, Home: 16 (15) / 11-4-1 / 1.71 / .919 / 1
Dallas Projected Starting Goaltender – Kari Lehtonen
Season: 33 (32) / 15-12-2 / 2.59 / .918 / 1
Career vs Los Angeles: 16 (16) / 8-7-0 / 2.53 / .914 / 1
Last Game vs Los Angeles: 4/9/13 / 14 MP / 7-8 shots / 5-1 W (ND)
2012-13, Away: 15 (15) / 8-6-0 / 2.19 / .928 / 1
Los Angeles Leaders
Total Points: Anze Kopitar (10-29=39)
Goals: Jeff Carter (24-5=29)
Assists: Anze Kopitar (10-29=39)
Plus/Minus: Justin Williams (+14; 10-20=30)
Penalty Minutes: Keaton Ellerby (52*; 0-3=3)
*36 of Ellerby's penalty minutes came as a member of the Florida Panthers.
Dallas Leaders
Total Points: Jamie Benn (11-20=31)
Goals: Jamie Benn (11*-20-31); Ray Whitney (11*-15=26)
Assists: Alex Goligoski (2-22=24)
Plus/Minus: Alex Goligoski (+6; 2-22=24)
Penalty Minutes: Antoine Roussel (85; 6-7=13)
* Jaromir Jagr leads the team with 14 goals but was traded to the Boston Bruins on April 2.
A stick tap goes to: Be The Match. Please consider having your cheek swabbed to join the Be The Match registry at today's Kings-Stars game, as you could be saving somebody's life. Be The Match connects patients with their donor match for a life-saving marrow or umbilical cord blood transplant. Tannerhead Nation and Be The Match will be hosting a booth on the main concourse.
A fist shake goes to: Third periods. Los Angeles has been tied after two periods in all four games against Dallas this season before being outscored 10-2 in the third period. In the most recent Kings-Stars game, Anze Kopitar and Dustin Brown were on the ice for all four Dallas goals in a 5-1 loss at the American Airlines Center on April 9. Against teams other than the Kings, the Stars have been outscored 39-36 in third periods this season.
Why the Kings need to win this game: The Kings want to be playing their best hockey as they enter the playoffs. Earning home ice advantage for the first time since 1992 would be a major bonus; Los Angeles has opened its last 15 series on the road.
Rankings and Statistics
Goals/Game: LAK – t-8 / 2.77; DAL – t-8 / 2.77
Goals Against/Game: LAK – 7 / 2.36; DAL –22 / 2.91
Power Play: LAK – 8 / 20.6%; DAL – 18 / 17.1%
Penalty Kill: LAK – 11 / 82.9%; DAL – 14 / 81.6%
Shots/Game: LAK – 10 / 30.1; DAL – 28 / 26.3
Shots Against/Game: LAK – 3 / 24.7; DAL – 22 / 30.7
Faceoffs: LAK – 5 / 51.6%; DAL – 25 / 47.6%
Save Percentage: LAK – 18 / .904; DAL – 17 / .905
Projected Lines – Los Angeles
Dustin Brown – Anze Kopitar – Justin Williams
Dustin Penner – Mike Richards – Jeff Carter
Dwight King – Jarret Stoll – Trevor Lewis
Kyle Clifford – Brad Richardson – Jordan Nolan
Robyn Regehr – Drew Doughty
Rob Scuderi – Slava Voynov
Jake Muzzin – Matt Greene
Jonathan Quick
Jonathan Bernier
Notes: The Kings can finish no lower than seventh place if they take at least one point from tonight's game. A Los Angeles regulation win, coupled with a Minnesota regulation loss at home to Calgary would clinch at least sixth place for the Kings. Los Angeles has killed off 12 consecutive penalties over the last five games and is 44-for-49 on the penalty kill (89.8%) over the last 17 games. The Kings are 32-for-132 on the power play (24.2%) over the last 40 games. The Kings have averaged 33 shots per game over the last 13 games (429 shots / 13 games). As always, line projections are educated assessments and not definite alignments.
Projected Lines – Dallas
Ray Whitney – Jamie Benn – Loui Eriksson
Eric Nystrom – Vern Fiddler – Erik Cole
Reilly Smith – Cody Eakin – Ryan Garbutt
Antoine Roussel – Tom Wandell – Matt Fraser
Trevor Daley – Stephane Robidas
Brenden Dillon – Alex Goligoski
Aaron Rome – Philip Larsen
Kari Lehtonen
Richard Bachman
Notes: Trevor Daley has missed Friday's game in St. Louis with an upper-body injury and will be a game-time decision tonight. Should he be unable to play, Aaron Rome would skate with Stephane Robidas and Jordie Benn would slot in alongside Philip Larsen. Alex Chiasson is out with a shoulder injury. Lane McDermid could skate in place of Matt Fraser. Dallas' road penalty kill percentage ranks third in the NHL (87.0%), while their home penalty kill ranks 29th (76.7%). The Stars have killed nine-of-10 penalties against the Kings this season. Dallas' 103 wins against Los Angeles is the most versus any NHL franchise. They have 102 all-time wins over Detroit. The Stars have won four straight games at Staples Center and have points in 18 of the last 22 games in Los Angeles (12-4-6). As always, line projections are educated assessments and not definite alignments.