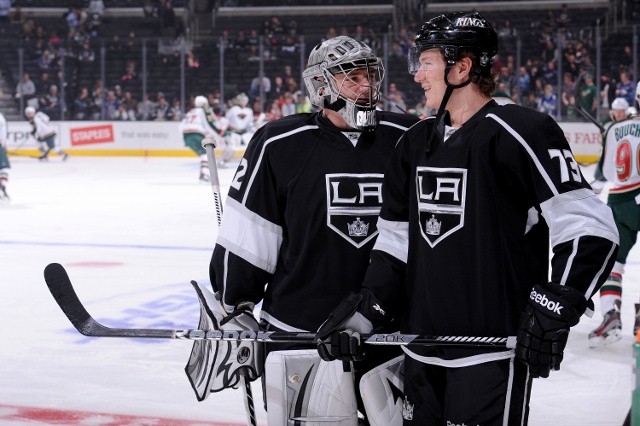 The Kings assigned Tyler Toffoli to AHL-Manchester on Friday after the rookie forward had been a healthy scratch for eight consecutive games. Toffoli, who turns 21 on Wednesday, recorded five points (2-3=5) and a plus-three rating in eight games after making his debut in a 5-2 win over San Jose on March 16.
Toffoli was brought in last month to provide an extra option up front while the Kings dealt with an unforgiving schedule that featured 17 games over the final 30 days of March. Scoring his first NHL goal on Mike Smith in a 4-0 win over Phoenix on March 18, he recorded points in four of his first six games and averaged 11:55 of ice time in his Los Angeles stint.
Though Toffoli played primarily as a right wing in the AHL and is listed as a center, Sutter acknowledged that a switch to left wing is likely on the horizon for the right-handed shooter who played on the left side sparingly in minor and junior hockey.
It is likely that he'll reunite with linemates Tanner Pearson, a left wing, and Linden Vey, a center, when he joins a Manchester Monarchs team fresh on the playoff hunt as early as tonight. Entering the final three games of the regular season, Manchester's 77 points placed them amongst five teams vying for the final two playoff berths in the Eastern Conference: Norfolk (79 points; three games remaining; Anaheim), Connecticut (79 points; two games remaining; New York Rangers), Hershey (77 points; three games remaining; Washington) and Bridgeport (74 points; three games remaining; New York Islanders). Like Connecticut and Norfolk, Manchester has only road games remaining: at Binghamton tonight, at Scranton-Wilkes Barre tomorrow, and at Hershey on Sunday. The Monarchs have won four in a row to tighten the playoff race.
Following the conclusion of the Monarchs' season, Toffoli could rejoin the Kings as an additional offensive option.