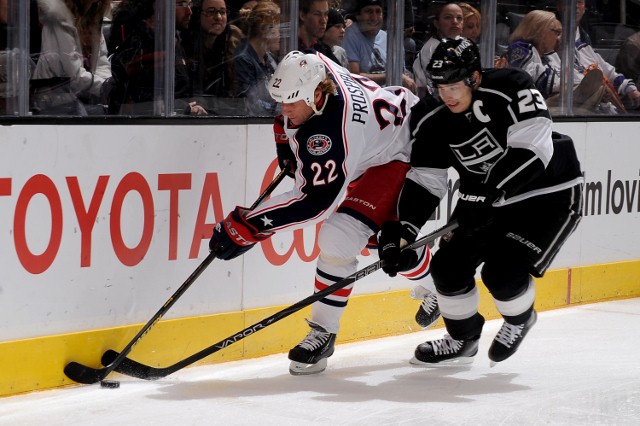 Los Angeles Kings (24-14-5) vs Columbus Blue Jackets (21-16-7)
Thursday, April 18, 2013, 7:30 pm
Staples Center, Los Angeles, California
Referees: #26 Rob Martell, #28 Chris Lee
Linesmen: #86 Brad Lazarowich, #91 Don Henderson
Los Angeles Projected Starting Goaltender – Jonathan Quick
Season: 33 GP (32 GS) / 15-12-4 record / 2.48 GAA / .900 Sv% / 1 SHO
Career vs Columbus: 14 (14) / 9-5-0 / 2.07 / .913 / 2
Last Game vs Columbus: 2/5/13 / 60 MP / 18-20 shots / 4-2 W
2012-13, Home: 15 (14) / 10-4-1 / 1.75 / .917 / 1
Columbus Projected Starting Goaltender – Sergei Bobrovsky
Season: 34 (33) / 18-10-6 / 2.03 / .931 / 4
Career vs Los Angeles: 2 (2) / 0-2-0 / 1.53 / .936 / 0
Last Game vs Los Angeles: 2/15/13 / 59 MP / 20-22 shots / 1-2 L
2012-13, Away: 15 (15) / 7-7-1 / 2.48 / .913 / 1
Los Angeles Leaders
Total Points: Anze Kopitar (10-28=38)
Goals: Jeff Carter (24-5=29)
Assists: Anze Kopitar (10-28=38)
Plus/Minus: Justin Williams (+14; 10-20=30)
Penalty Minutes: Keaton Ellerby (52*; 0-3=3)
*36 of Ellerby's penalty minutes came as a member of the Florida Panthers.
Columbus Leaders
Total Points: Vinny Prospal (11-16=27)
Goals: Marian Gaborik (12-14=26)*
Assists: Vinny Prospal (11-16=27); Fedor Tyutin (4-16=20)
Plus/Minus: Dalton Prout (+14, 0-4=4)
Penalty Minutes: Jared Boll (95; 2-4=6)
*nine of Gaborik's goals game as a member of the New York Rangers.
A stick tap goes to: Columbus Head Coach Todd Richards. Richards took over as the interim coach after Scott Arniel was fired last year, and the decision to remove the "interim" tag was clearly the correct one. A crafty, hard-working Blue Jackets team appears to be buying in with five consecutive wins to take over sole possession of eighth place in the Western Conference. Don't forget that this is a team that played its best hockey down the stretch last season as well, winning five of its final six games. Since March 1, 2012, Columbus is 32-24-7.
A fist shake goes to: Columbus' power play. The Blue Jackets' man advantage ranks 30th in the NHL at 12.4%. Worse yet, their power play on the road operates at 8.2%. They've scored only five power play goals away from Nationwide Arena this year.
Why the Kings need to win this game: If a first round series against San Jose is in the cards, it would best serve Los Angeles to have home ice advantage. Minnesota (two points back) and St. Louis (three points back; one game in hand) are also on the Kings' heels and benefit from more favorable schedules.
Rankings and Statistics
Goals/Game: LAK – 9 / 2.79; CBJ – 25 / 2.36
Goals Against/Game: LAK – 7 / 2.40; CBJ – 9 / 2.46
Power Play: LAK – 9 / 20.3%; CBJ – 30 / 12.4%
Penalty Kill: LAK – 12 / 82.7%; CBJ – 9 / 83.9%
Shots/Game: LAK – 10 / 30.3; CBJ – 29 / 26.3
Shots Against/Game: LAK – 3 / 24.7; CBJ – 19 / 30.1
Faceoffs: LAK – 5 / 51.7%; CBJ – 6 / 51.6%
Save Percentage: LAK – 18 / .903; CBJ – 7 / .919
Projected Lines – Los Angeles
Dustin Brown – Anze Kopitar – Justin Williams
Dustin Penner – Mike Richards – Jeff Carter
Dwight King – Jarret Stoll – Trevor Lewis
Kyle Clifford – Brad Richardson – Jordan Nolan
Robyn Regehr – Drew Doughty
Rob Scuderi – Slava Voynov
Jake Muzzin – Matt Greene
Jonathan Quick
Jonathan Bernier
Notes: Matt Greene returns to the lineup after missing 42 games due to a back injury that required surgery. The Kings have killed off 10 consecutive power plays over the last four games and are 42-for-47 on the penalty kill (89.4%) over the last 16 games. The Kings are 31-for-130 on the power play (23.8%) over the last 39 games. The Kings have averaged 33.8 shots per game over the last 12 games (406 shots / 12 games). As always, line projections are educated assessments and not definite alignments.
Projected Lines – Columbus
Vinny Prospal – Mark Letestu – Marian Gaborik
R.J. Umberger – Ryan Johansen – Nick Foligno
Matt Calvert – Brandon Dubinsky – Cam Atkinson
Blake Comeau – Derek Mackenzie – Jared Boll
Fedor Tyutin – Jack Johnson
James Wisniewski – Tim Erixon
Dalton Prout – David Savard
Sergei Bobrovsky
Michael Leighton
Notes: Sergei Bobrovsky carries a five-game winning streak into tonight's game. He has stopped 155-of-163 shots over the streak, good for a .951 Sv%. His .931 overall Sv% ranks second in the NHL. The Blue Jackets are 4-6-0 on the second night of back-to-back sets. Dalton Prout and Jake Muzzin are tied for the best plus/minus rating amongst rookie defensemen with a plus-14. As always, line projections are educated assessments and not definite alignments.