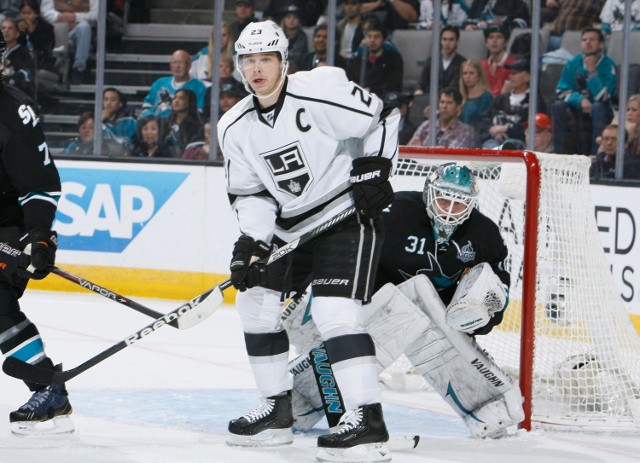 Los Angeles Kings (24-14-4) vs San Jose Sharks (22-13-7)
Tuesday, April 16, 2013, 7:30 pm
HP Pavilion, San Jose, California
Referees: #11 Kelly Sutherland, #33 Kevin Pollock
Linesmen: #82 Ryan Galloway, 86 Brad Lazarowich
Los Angeles Projected Starting Goaltender – Jonathan Quick
Season: 32 GP (31 GS) / 15-12-3 record / 2.50 GAA / .898 Sv% / 1 SHO
Career vs San Jose: 17 (17) / 8-4-4 / 2.63 / .908 / 2
Last Game vs San Jose: 3/14/13 / 28 MP / 9-12 shots / 3-4 L (ND)
2012-13, Away: 17 (17) / 5-8-2 / 3.21 / .885 / 0
San Jose Projected Starting Goaltender – Antti Niemi
Season: 38 (38) / 21-10-6 / 2.13 / .925 / 4
Career vs Los Angeles: 16 (16) / 9-4-2 / 2.34 / .922 / 2
Last Game vs Los Angeles: 3/16/13 / 34 MP / 14-18 shots / 2-5 L
2012-13, Home: 19 (19) / 13-1-4 / 1.75 / .936 / 3
Los Angeles Leaders
Total Points: Anze Kopitar (10-27=37)
Goals: Jeff Carter (24-5=29)
Assists: Anze Kopitar (10-27=37)
Plus/Minus: Justin Williams (+15; 10-19=29)
Penalty Minutes: Keaton Ellerby (52*; 0-3=3)
*36 of Ellerby's penalty Minutes came as a member of the Florida Panthers.
San Jose Leaders
Total Points: Joe Thornton (7-30=37)
Goals: Logan Couture (17-13=30); Patrick Marleau (17-11=28)
Assists: Joe Thornton (7-30=37)
Plus/Minus: Joe Thornton (+4; 7-30=37)
Penalty Minutes: Andrew Desjardins (59*; 1-1=2)
*Ryane Clowe leads the Sharks with 79 penalty minutes but was traded to the New York Rangers on April 2.
A stick tap goes to: Antti Niemi. The former Stanley Cup-winning goalie entered the season with a career 2.38 GAA and has improved upon his numbers with efforts that will draw Vezina Trophy consideration. Serving as San Jose's backbone as the Sharks took time to improve their offensive production, Niemi has never wavered in what is becoming a career year. He has three shutouts in his last 11 starts, one of which was a 35-save blanking of the Phoenix Coyotes last night in Glendale. He's likely to make his 21st consecutive start tonight.
A fist shake goes to: Los Angeles' divisional record on the road. The Kings are 2-5-1 when traveling to visit Pacific Division teams, a record that must have little relevance if L.A. is to win at HP Pavilion, where the Sharks are 14-1-5. Antti Niemi was excellent against the Kings in a 4-3 win earlier this year at the Shark Tank, a building in which he has posted a 1.75 GAA and .936 Sv% to go along with three shutouts.
Why the Kings need to win this game: Should Los Angeles and San Jose meet in the first round, it would be in the Kings' best interests to hold home ice advantage over the Sharks, who are 9-2-1 in their last 12 games and haven't lost in regulation on home ice since February 5. The two teams on L.A.'s heels – San Jose and St. Louis – have a combined 10 home games and three road games remaining.
Rankings and Statistics
Goals/Game: LAK – 8 / 2.81; SJS – 25 / 2.36
Goals Against/Game: LAK – 7 / 2.40; SJS – 6 / 2.33
Power Play: LAK – 9 / 20.0%; SJS – 12 / 19.5%
Penalty Kill: LAK – 14 / 82.3%; SJS – 4 / 86.6%
Shots/Game: LAK – 11 / 30.0; SJS – 4 / 31.7
Shots Against/Game: LAK – 3 / 24.5; SJS – 15 / 28.9
Faceoffs: LAK – 5 / 51.7%; SJS – 2 / 53.8%
Save Percentage: LAK – 20 / .902; SJS – 6 / .919
Projected Lines – Los Angeles
Dustin Brown – Anze Kopitar – Justin Williams
Dustin Penner – Mike Richards – Jeff Carter
Dwight King – Jarret Stoll – Trevor Lewis
Kyle Clifford – Brad Richardson – Jordan Nolan
Robyn Regehr – Drew Doughty
Rob Scuderi – Slava Voynov
Jake Muzzin – Keaton Ellerby
Jonathan Quick
Jonathan Bernier
Notes: The Kings are 8-17-5 in their last 30 trips to HP Pavilion, dating back to the 2002-03 season. Los Angeles' last win in San Jose was a 4-0 win on December 27, 2010. Mike Richards has points in six straight games (3-4=7). Kyle Clifford will play in his 200th career game tonight. The Kings are 30-for-127 (23.6%) on the power play over the last 38 games. As always, line projections are educated assessments and not definite alignments.
Projected Lines – San Jose
TJ Galiardi – Joe Thornton – Brent Burns
Patrick Marleau – Logan Couture – Marty Havlat
Raffi Torres – Joe Pavelski – Tommy Wingels
Andrew Desjardins – Scott Gomez – Adam Burish

Matt Irwin – Dan Boyle
Marc-Edouard Vlasic – Justin Braun
Brad Stuart – Jason Demers
Antti Niemi
Thomas Greiss
Notes: Lines via Kevin Kurz of CSNBayArea.com. Antti Niemi has made 20 consecutive starts in net. San Jose has outscored its opponents 34-22 in the opening period this season. The Sharks' home power play ranks fourth (24.3%), while their home penalty killing ranks second (91.1%). As always, line projections are educated assessments and not definite alignments.