-The Los Angeles Kings played a smothering defensive and neutral zone game against the Anaheim Ducks on Saturday night, denying the visitors an excess of quality scoring chances and withstanding several pushes over the final two periods. Dustin Brown, Anze Kopitar and Justin Williams were excellent in using possession to control the game against the Ducks' stacked line of Bobby Ryan, Ryan Getzlaf and Corey Perry during the first period, and after Kyle Palmieri joined Getzlaf and Perry for much of the remainder of the game, Los Angeles surrendered very few Grade-A chances as the game opened up and resembled somewhat of a "track meet" in the third period, as described by Darryl Sutter. For 40 minutes, this was a game that was kept close to vest.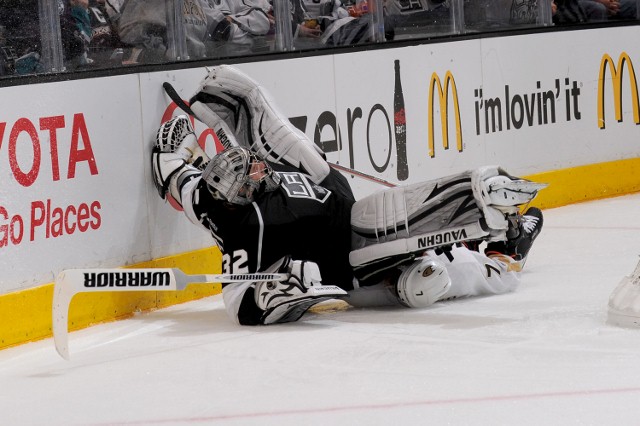 -The teams' power plays were operating at an unsustainable pace prior to last night's game, with L.A. scoring on four-of-eight power plays and Anaheim scoring on five-of-11. The Ducks didn't receive a power play until 2:55 remained in regulation and sent a contingent of Getzlaf, Ryan, Perry, Teemu Selanne and Francois Beauchemin on the ice; they were joined by Sheldon Souray late in the man advantage with Fasth pulled. The Kings allowed very little while shorthanded after Jarret Stoll won the draw with Getzlaf. The only shot on goal credited to Anaheim was a Ryan shot from 42 feet out, according to the game's play by play log. Though penalty killing in the season series left much to be desired prior to last night, the Kings killed off the most important Ducks power play in the head to head battle this season without allowing much of a sniff at the net.
-There's still a wide discrepancy between Jonathan Quick's home and road stats. He was excellent last night, providing key glove saves on an Andrew Cogliano breakaway in the second period and on a Matt Beleskey second attempt with a lunging slide during a rush in the third. After stopping 19-of-20 shots, his save percentage rose to .917 at home, while his goals against average fell to 1.75. On the road, he's .885/3.21 and will likely be the goaltender in net when the Kings travel to the Shark Tank, where he was pulled earlier in the season and where San Jose has built a 14-1-5 home record.
-On Getzlaf's shorthanded goal, credit the Ducks' captain for a tremendous individual effort. Choosing to shoot instead of pass the puck to open teammates, Jake Muzzin certainly could have offered more resistance than a stick in the midsection after having his shot blocked and could have pulled down Getzlaf for a "good" penalty. Keep in mind Getzlaf is also 6-foot-4 and 220 pounds, and won't go down with anything short of a meteor when he senses an opportunity for a shorthanded breakaway. Though he hesitated, Quick made the right read to come out to play the diagonally rolling puck, which didn't advance as straight or as quickly as it would have had it been gliding on its broad side. Getzlaf made a deft chip to himself around the Kings' goaltender before wristing it into an open net for the first shorthanded goal allowed by Los Angeles this year. If there's any blame to be had for the Kings on that play, it's for Muzzin shooting the puck directly into the path of two large bodies while he had passing options to his left and right. Credit should be given to Getzlaf for the strong individual effort more than blame should be assigned to anyone in particular.