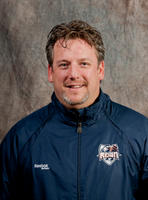 Emerging from the first round of the Kelly Cup Playoffs for the first time in team history following a four-game sweep of the Utah Grizzlies, the ECHL's Ontario Reign have their sights set on the Idaho Steelheads with a trip to the Western Conference Final on the line.
Ontario's 46-19-3-4 record was slightly better than Idaho's 45-20-1-6 mark, though the Steelheads won five of the nine games in the season series. All games except for one Reign win were decided in regulation, and all but two games were decided by more than one goal.
"We know it's going to be a battle," Ontario Head Coach Jason Christie said. "Their team has a pretty similar makeup to us, you know, hardnosed guys who will pay the price. They like to get pucks to the net, and we have to make sure that we're ready to go. It doesn't get any easier for sure, and this is something where we've just got to keep testing ourselves."
Because of American Hockey League call-ups, several prominent names that had been a part of much of the team's regular season success won't be available for Ontario this series. Irvine native C.J. Stretch, who attended training camp with the Kings in 2011 and recorded a four-goal game in the first round, has been summoned by the Oklahoma City Barons for the second time this season. Colton Yellow Horn, who scored 36 times in 48 games for the Reign, has had a productive 25-game stint with the Manchester Monarchs by recording 18 points (6-12=18) and a plus-five rating in his first AHL exposure. Defensemen Chris Huxley (1-4=5 in 25 games) and Vincent LoVerde (2-10=12 in 47 games) are also currently in Manchester, while Dan DaSilva, who had 42 points (15-27=42) in 34 games, is back in the AHL, where he has appeared in 319 career games.
Ninth-place Manchester is four points out of a playoff spot with a game in hand on eighth-place Connecticut. Should the Monarchs not qualify for the AHL playoffs, Yellow Horn and DaSilva could be returned to Ontario. Both names were included as reserves on the playoff roster submitted by the team.
"We brought a few guys that were here last year back, and again, they're taking the charge in that," Christie said of the team's leadership. "We had a good team last year, but I think this year we kind of upgraded as far as character-wise, and those guys are really stepping up. This year with the lockout and stuff like that, we've had so much turnaround and turnover, so we have to make sure that we're ready. I think we've got the horses. It's going to be a battle. It's going to be competitive, and like I said, those guys that were here last year, they're bringing it each and every night and the other guys are following."
Two interesting Kings prospects populate Ontario's roster. 21-year-old goaltender J.F. Berube, a fourth round selection in 2009, alternated starts with Winnipeg prospect Chris Carrozzi for much of the season with a stint in Manchester mixed in. Carrozzi is currently with the AHL's St. John's Ice Caps, allowing Berube to handle the reigns of the team's playoff run. After a regular season in which he lowered his GAA (2.24) and raised his Sv% (.910) from the previous season, Berube stopped 92-of-98 shots in the first round sweep of Utah.
"Right now, with [Berube] coming down, he came in [and] matured a lot," Christie said. "He's had a heck of a year. He got called up, got sent back down and he's got the ball, and he's rolling with it. We've been going with him the last four games here in playoffs, and he's going to be going here against Idaho. It's just great to see a guy grow from last year to this year, and just what that one year does under his belt obviously is a plus for us. He's a great kid, great goaltender, and I'm looking for big things for him."
Seventh round draft pick Nick Ebert – taken with the last overall pick in the 2012 NHL Entry Draft – joined the Reign after his 18-year-old season with the OHL's Windsor Spitfires. Ontario's youngest player by three years, the New Jersey-born defenseman who turns 19 on May 11 recorded two goals, four points and a plus-6 rating in the first round series with Utah while taking nine shots on goal.
"Even the last couple of games of the regular season, he came in right away and added a lot of offense on our back end. We were short there, and he's come in and he's played really well for us," Christie said. "Great power play guy. He makes some plays that our guys get caught off-guard because he's ahead, reading the play. Our power play's helping that. Again, he's learning from the guys – just the grind. Junior is a little different from pro, obviously we know – bigger bodies – and he hasn't missed a beat. It's really good to see him coming in and really playing as well as he has. He's got a huge upside, for sure."
Christie identified Ebert's aggressiveness as an asset, one continuing to be refined in his first professional stint.
"He definitely loves to push the play. He's got a heck of a shot. He sees the ice real well. D-Zone he kind of gets caught standing a little bit, but again, he's 19-years-old, and that's about developing. He's coming around. Harpo's working a lot with him down there, so it's been a great upside for us, and I'm sure if you ask, it's been a great experience for him. So I think it's been a win-win."
The playoffs open at Citizen's Business Bank Arena in Ontario conveniently around the Los Angeles Kings' schedule next weekend, with Game 1 scheduled for 7:00 pm Friday and Game 2 scheduled for 6:00 pm Saturday.