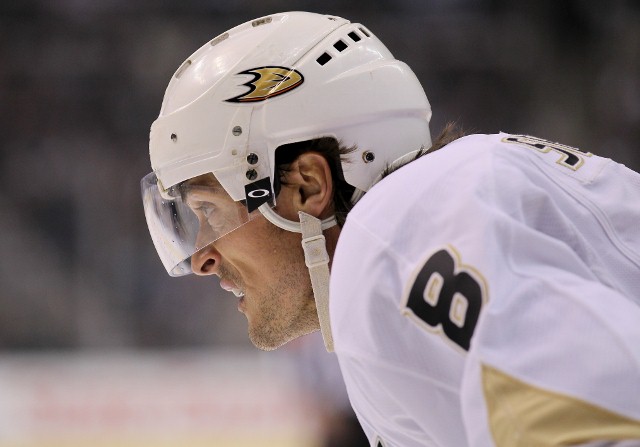 Los Angeles Kings (23-14-4) vs Anaheim Ducks (27-9-5)
Saturday, April 13, 2013, 8:00 pm
Staples Center, Los Angeles, California
Referees: #14 Dennis LaRue, #36 Dean Morton
Linesmen: #55 Shane Heyer, #91 Don Henderson
Los Angeles Projected Starting Goaltender – Jonathan Quick
Season: 31 GP (30 GS) / 14-12-3 record / 2.55 GAA / .897 Sv% / 1 SHO
Career vs Anaheim: 21 (21) / 12-5-2 / 2.50 / .905 / 1
Last Game vs Anaheim: 2/23/13 / 60 MP / 24-26 shots / 5-2 W
2012-13, Home: 14 (13) / 9-4-1 / 1.81 / .914 / 1
Anaheim Projected Starting Goaltender – Viktor Fasth
Season: 21 (19) 14-4-1 / 2.17 / .923 / 3
Career vs Los Angeles: 2 (2) / 1-1-0 / 3.40 / .887 / 0
Last Game vs Los Angeles: 4/7/13 / 65 MP / 35-38 shots + 1/2 shootout / 4-3 SOW
2012-13, Away: 9 (8) / 6-1-1 / 2.23 / .921 / 2
Los Angeles Leaders
Total Points: Anze Kopitar (10-26=36)
Goals: Jeff Carter (24-5=29)
Assists: Anze Kopitar (10-26=36)
Plus/Minus: Justin Williams (+16; 10-19=29)
Penalty Minutes: Keaton Ellerby (52*; 0-3=3)
*36 of Ellerby's penalty Minutes came as a member of the Florida Panthers.
Anaheim Leaders
Total Points: Ryan Getzlaf (13-30=43)
Goals: Ryan Getzlaf (13-30=43), Corey Perry (13-18=31)
Assists: Ryan Getzlaf (13-30=43)
Plus/Minus: Sheldon Souray (+26; 7-9=16)
Penalty Minutes: (Corey Perry (66; 13-18=31)
A stick tap goes to: Teemu Selanne. Though the now-42-year-old Selanne waits until the off-season to address his future career plans, this could very well be the last time he ever plays in Los Angeles. Perhaps the most effective opposition player since the dissolution of the Smythe Division, Selanne has recorded more games played (101), goals (52), assists (66), points (118), and a better plus-minus rating (+27) against the Kings than any other team he has played against.
A fist shake goes to: Penalty killing. Armed with top-10 power play units, Los Angeles (4-for-8) and Anaheim (5-for-11) have combined for nine power play goals in three head-to-head matchups this season. The Ducks scored three times with the man advantage in the first game of the season between these two teams, and no fewer than two power play goals have been scored in any game between the Kings and Ducks in 2012-13.
Why the Kings need to win this game: Winning (or at least evening) the season series would be nice, but fourth-place Los Angeles has a pair of red hot teams on its tail in San Jose and St. Louis and would be best served opening a playoff series at home.
Rankings and Statistics
Goals/Game: LAK – t-8 / 2.83; ANA – 7 / 2.88
Goals Against/Game: LAK – t-8 / 2.44; ANA – t-8 / 2.44
Power Play: LAK – 10 / 20.1%; ANA – 7 / 21.0%
Penalty Kill: LAK – 14 / 82.2%; ANA – 22 / 79.6%
Shots/Game: LAK – t-10 / 30.3; ANA – t-22 / 27.6
Shots Against/Game: LAK – 3 / 24.6; ANA – 9 / 28.1
Faceoffs: LAK – 6 / 51.5%; ANA – 26 / 47.6%
Save Percentage: LAK – 22 / .901; ANA – 13 / .913
Projected Lines – Los Angeles
Dustin Brown – Anze Kopitar – Justin Williams
Dustin Penner – Mike Richards – Jeff Carter
Dwight King – Jarret Stoll – Trevor Lewis
Kyle Clifford – Brad Richardson – Jordan Nolan
Robyn Regehr – Drew Doughty
Rob Scuderi – Slava Voynov
Jake Muzzin – Keaton Ellerby
Jonathan Quick
Jonathan Bernier
Notes: Though the Kings aren't anticipating any lineup changes, they will use an extra forward in warm-ups and may adjust their forward corps in response to the Ducks' lineup. Mike Richards has points in five straight games (2-4=6). Los Angeles is 9-1-3 in its last 13 home games against Anaheim, dating back to the start of the 2008-09 season. As always, line projections are educated assessments and not definite alignments.
Projected Lines – Anaheim
Bobby Ryan – Ryan Getzlaf – Corey Perry
Kyle Palmieri – Matthew Lombardi – Teemu Selanne
Andrew Cogliano – Saku Koivu – Daniel Winnik
Matt Beleskey – David Steckel – Emerson Etem
Sheldon Souray – Francois Beauchemin
Bryan Allen – Luca Sbisa
Toni Lydman – Ben Lovejoy
Viktor Fasth
Jonas Hiller
Notes: Lines via Daily Faceoff. Cam Fowler has a lower-body injury and will miss tonight's game. Anaheim is 11-3-5 on the road (27 points) through 19 games, trailing the 13-4-2 (28 points) road record set by the Stanley Cup-winning 2006-07 by only one point for the best road start in team history. Souray ranks third in the NHL with a +26 rating. Ryan Getzlaf is tied for seventh in the league with 43 points. As always, line projections are educated assessments and not definite alignments.