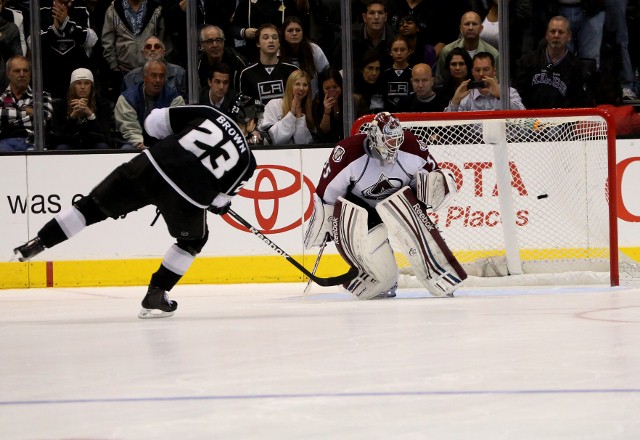 -Regarding the first Kings goal, I'm not sure if Sami Aittokallio saw shots quite of that caliber for AHL-Lake Erie. Jeff Carter quickly and effortlessly released a post-in wristshot from the left circle early in the first period last night and with the demeanor of a hardened assassin, offered a slight fist pump without cracking a smile.
-Speaking of effortless shots, Anze Kopitar's offers a textbook example. On a slapshot or one-timer, his windup, point of contact and follow through generates so much force considering the ease at which it seems to be applied.
-Good on Aittokallio for making impressive saves with Los Angeles leading 2-0, including a stop on a Brad Richardson attempt off a quick cut to the center of the ice during a first period rush. The 20-year-old became the second-youngest Avalanche goaltender to appear in a game last night – Marc Denis was 19 when he debuted in 1996 – and it was disappointing for him not to be able to finish the game due to leg cramps and dehydration.
I can guarantee that Sami Aittikallio will never forget his first NHL game.

— The Royal Half (@theroyalhalf) April 12, 2013
-Los Angeles' pressure game got away in the second period as the team got back on its heels and played a passive game, allowing Colorado to dictate the pace and attempt the first nine shots on goal of the middle frame. Anze Kopitar dismissed a question about complacency against a last place team after the game last night, saying "We know what our goal is, and I guess in two weeks or three weeks we're where want to be and what kind of style we want to play, and sitting back is not the one to play." Of the last six periods, one has been excellent (1st-COL), four have been poor (1st-DAL, 2nd-DAL, 3rd-DAL, 2nd-COL) and one saw a poor first half and a strong second half (3rd-COL). Jonathan Quick has generally been very good over this time and made an awfully good glove save on Matt Duchene early in the third period.
-And, of course, the Kings won a shootout for the first time since January 28. Points are points are points.