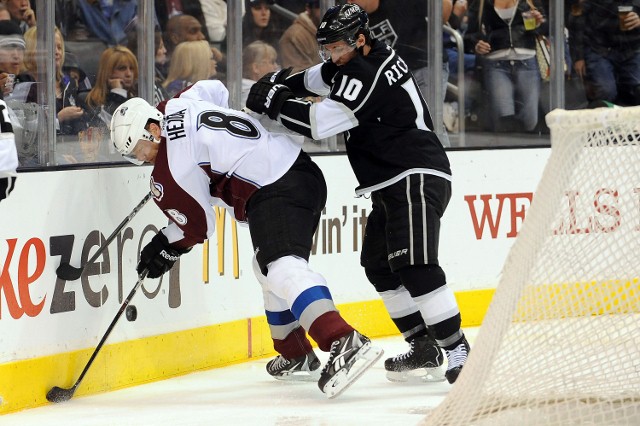 Los Angeles Kings (22-14-4) vs Colorado Avalanche (13-22-5)
Thursday, April 11, 2013, 7:30 pm
Staples Center, Los Angeles, California
Referees: #37 Kyle Rehman, #25 Marc Joannette
Linesmen: #82 Ryan Galloway, #65 Pierre Racicot
Los Angeles Projected Starting Goaltender – Jonathan Quick
Season: 30 GP (29 GS) / 13-12-3 record / 2.58 GAA / .895 Sv% / 1 SHO
Career vs Colorado: 14 (14) / 8-4-1 / 2.59 / .899 / 2
Last Game vs Colorado: 2/23/13 / 60 MP / 23-24 shots / 4-1 W
2012-13, Home: 13 (12) / 8-4-1 / 1.81 / .913 / 1
Colorado Projected Starting Goaltender – Sami Aittokallio
Season, AHL-Lake Erie: 26 (26) / 14-11-1 / 2.89 / .903 / 1
-Aittokallio is making his NHL debut.
Los Angeles Leaders
Total Points: Anze Kopitar (10-26=36)
Goals: Jeff Carter (23-5=28)
Assists: Anze Kopitar (10-26=36)
Plus/Minus: Justin Williams (+16; 10-19=29)
Penalty Minutes: Keaton Ellerby (52*; 0-3=3)
*36 of Ellerby's penalty Minutes came as a member of the Florida Panthers.
Colorado Leaders
Total Points: P.A. Parenteau (15-24=39)
Goals: Matt Duchene (16-22=38)
Assists: P.A. Parenteau (15-24=39)
Plus/Minus: John Mitchell (+8; 10-8=18)
Penalty Minutes: Cody McLeod (77; 3-4=7)
A stick tap goes to: Jean-Sebastien Giguere. Colorado is 1-0 since Giguere's well-repeated "Some guys are more worried about their Vegas trip at the end of the season than playing the remaining games" comment made its rounds earlier in the week. When Giguere – a Conn Smythe Trophy and Stanley Cup winner – speaks, a young team listens.
A fist shake goes to: Colorado's road performance. The Avs are 3-15-3 away from the rarefied air of the Pepsi Center. Their only regulation road win over a current playoff team was last night's 4-1 victory in Anaheim, which snapped a 14-game road winless streak.
Why the Kings need to win this game: The Kings, a likely playoff team, would be well-served as a four or five seed rather than dropping to a spot in which a potential first round matchup with Vancouver, Anaheim or Chicago would beckon. With games against Anaheim and San Jose approaching, Los Angeles would be well-served by beating the 30th-ranked NHL team that isn't exactly at the franchise's apex.
Rankings and Statistics
Goals/Game: LAK – t-8 / 2.85; COL – 28 / 2.32
Goals Against/Game: LAK – t-9 / 2.45; COL – 27 / 3.10
Power Play: LAK – 10 / 20.0%; COL – 25 / 14.4%
Penalty Kill: LAK – 16 / 81.9%; COL – 20 / 80.6%
Shots/Game: LAK – t-10 / 30.1; COL – 13 / 29.7
Shots Against/Game: LAK – 3 / 24.5; COL – 23 / 31.4
Faceoffs: LAK – 8 / 51.4%; COL – 10 / 51.2%
Save Percentage: LAK – 23 / .900; COL – 22 / .901
Projected Lines – Los Angeles
Dustin Brown – Anze Kopitar – Justin Williams
Dustin Penner – Mike Richards – Jeff Carter
Dwight King – Jarret Stoll – Trevor Lewis
Kyle Clifford – Brad Richardson – Jordan Nolan
Robyn Regehr – Drew Doughty
Rob Scuderi – Slava Voynov
Jake Muzzin – Keaton Ellerby
Jonathan Quick
Jonathan Bernier
Notes: Both Jake Muzzin and Robyn Regehr are likely to see time with Drew Doughty, depending on the game situation. Los Angeles is 1-4-1 in the last six games against Colorado. Jonathan Quick (144 W) is one win behind Kelly Hrudey (145 W) for the second-most wins in team history. Rogie Vachon is the franchise's all-time wins leader with 171. Drew Doughty has goals in three straight games (a career high) and points in four straight games (3-1=4); his career-high point streak is five games. Anze Kopitar has a four-game assists and points streak (0-4=4). The Kings are one of four teams to not have allowed a shorthanded goal. As always, line projections are educated assessments and not definite alignments.
Projected Lines – Colorado
Jamie McGinn – Matt Duchene – P.A. Parenteau
Gabriel Landeskog – Paul Stastny – David Jones
Cody McLeod – Ryan O'Reilly – John Mitchell
Patrick Bordeleau – Mark Olver – David Van Der Gulik
Erik Johnson – Matt Hunwick
Greg Zanon – Tyson Barrie
Jan Hejda – Stefan Elliott
Sami Aittokallio
Jean-Sebastien Giguere
Notes: Sami Aittokallio will make his NHL debut tonight after being called up from AHL-Lake Erie on Tuesday. The Finnish-born 20-year-old selected in the fourth round of the 2010 NHL Draft is the second-youngest goaltender in franchise history; Mark Denis debuted as a 19-year-old in 1996. Milan Hejduk may return at LW tonight. Colorado has been outscored 44-22 in the first period this season. As always, line projections are educated assessments and not definite alignments.