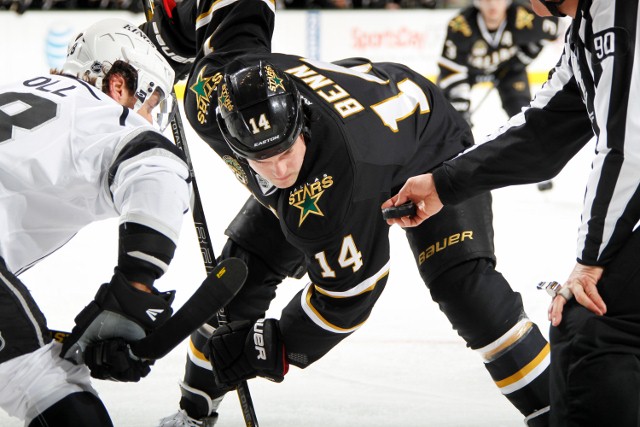 Los Angeles Kings (22-13-4) at Dallas Stars (18-17-3)
Tuesday, April 9, 2013, 7:30 pm
American Airlines Center, Dallas, Texas
Referees: #21 Don VanMassenhoven, #38 Francois St. Laurent
Linesmen: #84 Tony Sericolo, #66 Darren Gibbs
Los Angeles Projected Starting Goaltender – Jonathan Quick
Season: 29 GP (28 GS) / 13-11-3 record / 2.49 GAA / .898 Sv% / 1 SHO
Career vs Dallas: 20 (19) / 13-5-2 / 2.24 / .920 / 2
Last Game vs Dallas: 3/21/13 / 59 MP / 19-21 shots / 0-2 L
2012-13, Away: 16 (16) / 5-7-2 / 3.08 / .888 / 0
Dallas Projected Starting Goaltender – Kari Lehtonen
Season: 30 (29) / 14-11-2 / 2.66 / .916 / 1
Career vs Los Angeles: 15 (15) / 8-7-0 / 2.51 / .915 / 1
Last Game vs Los Angeles: 3/13/13 / 59 MP / 37-40 / 2-3 L
2012-13, Home: 16 (15) / 6-6-2 / 3.07 / .904 / 0
Los Angeles Leaders
Total Points: Anze Kopitar (10-25=35)
Goals: Jeff Carter (23-5=28)
Assists: Anze Kopitar (10-25=35)
Plus/Minus: Justin Williams (+19; 10-19=29)
Penalty Minutes: Keaton Ellerby (50*; 0-3=3)
*36 of Ellerby's penalty Minutes came as a member of the Florida Panthers.
Dallas Leaders
Total Points: Jamie Benn (8-19=27)
Goals: Loui Eriksson (10*-14=24)
Assists: Alex Goligoski (1-20=21)
Plus/Minus: Alex Goligoski (+4**; 1-20=21)
Penalty Minutes: Antoine Roussel (78; 5-6=11)
*Jaromir Jagr leads the team with 14 goals but was traded to the Boston Bruins on April 2.
**Michael Ryder is tied for the team lead with a plus-4 rating but was traded to the Montreal Canadiens on February 26.
A stick tap goes to: Alex Chiasson. Through recent trades, Dallas has kick started a late-season youth movement. With Jaromir Jagr's trade to Boston, the role of first line right wing has been inherited by the 22-year-old Chiasson, who has three goals in his first three NHL games. Having played against Minnesota Wild forward and fellow Boston University Terrier Charlie Coyle twice recently, the Kings should expect a similar package in the 6-foot-3 Chiasson, who has size, skates hard to the net, and has finishing ability.
A fist shake goes to: The challenged schedule-maker. There will be a wonky schedule for the lone Central Time Zone team in the Pacific Division during this compacted schedule, but Dallas will finish an 11-game stretch tonight in which they've played only five teams: Los Angeles (three times), Anaheim (three times), Minnesota (twice), Colorado (twice) and San Jose (once). The Stars played three straight games against the Ducks last week in addition to two consecutive home games against Minnesota the week prior.
Why the Kings need to win this game: San Jose is one point behind Los Angeles with a game in hand. That's a potential first round match up, and considering the Kings' 8-17-5 record in their last 30 trips to the Shark Tank, they need to take advantage of available points against teams on the wrong side of the playoff bubble.
Rankings and Statistics
Goals/Game: LAK – 8 / 2.90; DAL – t-13 / 2.68
Goals Against/Game: LAK – 8 / 2.38; DAL – t-25 / 3.05
Power Play: LAK – 10 / 20.0%; DAL – 17 / 17.5%
Penalty Kill: LAK – 17 / 81.4%; DAL – 15 / 81.9%
Shots/Game: LAK – 10 / 30.1; DAL – 28 / 26.9
Shots Against/Game: LAK – 1 / 24.4; DAL – 22 / 30.9
Faceoffs: LAK – 7 / 51.4%; DAL – 25 / 47.8%
Save Percentage: LAK – 19 / .902; DAL – 21 / .901
Projected Lines – Los Angeles
Dustin Brown – Anze Kopitar – Justin Williams
Dustin Penner – Mike Richards – Jeff Carter
Dwight King – Jarret Stoll – Trevor Lewis
Kyle Clifford – Brad Richardson – Jordan Nolan
Robyn Regehr – Drew Doughty
Rob Scuderi – Slava Voynov
Jake Muzzin – Keaton Ellerby
Jonathan Quick
Jonathan Bernier
Notes: Both Jake Muzzin and Robyn Regehr are likely to see time with Drew Doughty, depending on the game situation. The Kings are 10-1-2 in their last 13 visits to the American Airlines Center. Justin Williams has points in seven straight games (6-2=8). The Kings' last power play goal against Dallas was scored on February 12, 2012 by Andrei Loktionov. As always, line projections are educated assessments and not definite alignments.
Projected Lines – Dallas
Ray Whitney – Jamie Benn – Alex Chiasson
Matt Fraser – Cody Eakin – Loui Eriksson
Eric Nystrom – Vern Fiddler – Erik Cole
Antoine Roussel – Tom Wandell – Cody Garbutt
Trevor Daley – Stephane Robidas
Brenden Dillon – Alex Goligoski
Aaron Rome – Philip Larsen
Kari Lehtonen
Richard Bachman
Notes: Lines courtesy of Dallas Morning News writer Mike Heika. Alex Chiasson will appear in his first career home game. Kari Lehtonen will make his 19th straight start. The average age of Dallas' roster has dropped from 29.1 on opening night to 27.6 today. The Stars have used 10 rookies in their lineup this season, the second-most in the league behind Ottawa's 13 rookies. As always, line projections are educated assessments and not definite alignments.