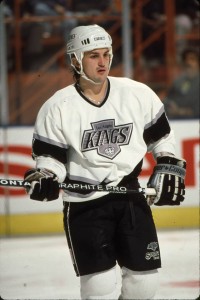 As the 2012-13 season marks the 20th anniversary of the Los Angeles Kings' 1992-93 run to the Stanley Cup Final, LAKings Insider will be catching up with members of that memorable Kings team as part of a "First Taste" series – a reader-suggested reference to the franchise's "first taste" of Stanley Cup action.
For the Kings fans who closely followed the 1992-93 playoff run and stayed up late on May 12, 1993, the name Gary Shuchuk carries legendary qualities.
Shuchuk may have logged more games in the American Hockey League, the International Hockey League and the Deutsche Eishockey Liga than the National Hockey League, though he will always retain his status as among the most important players ever to wear an L.A. jersey. His Pacific Coliseum goal at 6:31 of double overtime in Game 5 of the 1993 Smythe Division Finals ended the longest game ever played by a Kings team and built the bridge to a Game 6 win over the Vancouver Canucks at the Great Western Forum. Los Angeles then beat Toronto in seven games before succumbing to Montreal in the 1993 Stanley Cup Final.
Having been selected by the Detroit Red Wings in the 1988 NHL Supplemental Draft, Shuchuk was traded from Detroit to Los Angeles with Jimmy Carson and Marc Potvin in exchange for Paul Coffey, Jim Hiller and Sylvain Couturier in January, 1993.
Now 46, Shuchuk recently completed his third year as an assistant coach at his alma mater, the University of Wisconsin. Earlier Monday, he chatted with LA Kings Insider about his recollections of the 1992-93 season and one of the most famous goals in Kings history.
Gary Shuchuk, on being traded to Los Angeles in January, 1993:
"Well, any time you get traded, you kind of second guess what was going on. But I was getting traded to my old coach in Barry Melrose, so I was kind of excited to be reunited with him when I was with him in the Detroit organization. To be back with Barry was a great thing, but to get a chance to play with some of the guys in that locker room – I grew up an Edmonton Oilers fan, so knowing that Wayne Gretzky and Jari Kurry and Charlie Huddy and all these guys were there was kind of like for me, 'Wow'. A dream come true besides playing in the NHL. I get to play with these guys I grew up watching. So, for me, it was kind of two-fold. It was awesome I was getting a fresh start, and second, I was going to play with some guys that I idolized growing up."
Shuchuk, on his Game 5 double-overtime winner:
"It was one of those plays that Barry always preached. Make sure we always had someone going hard to the net. I knew Luc was getting the puck behind the net, so I basically just broke for the opening on the side there, and he made a great pass. I made the shot, and McLean kind of moved and it kind of slid off his pad, off the post, and it was in. For me, it was one shot [and] it went in, but overall, it kind of sparked our playoff run after that moment."

-Jump to 6:05 for the double overtime goal.
Shuchuk, on Gerald Diduck's hit earlier in Game 5 as part of a physical LA-Vancouver series:
"It was a very physical game, actually physical series, like you said. But that game, Gerald Diduck caught me with a nice elbow across the cheek, and he dropped me. Basically, by today's standards, I wouldn't have been able to come back and play. But I went back to the locker room, kind of shook off the old cobwebs a bit, and honestly, regarding that goal, I didn't really remember much of the goal until I got interviewed by CBC in Canada, and I'm watching the teleprompter, and basically, as they were playing the highlights, I'm kind of going through the memory of what happened with that goal. But it was a very physical game. Every game was. It was playoff hockey, but…we knew how hard we had to play against Vancouver, and they matched us. For me, that was a pretty good hit, but I was fortunate to come up with that goal."
On the legacy of his double overtime goal:
"Any time you can score an overtime goal, it's kind of a neat feather in your cap for your personal career, but I was just happy to contribute to get us that win. Moving forward and making it against Toronto, and then also winning that series and making it against Montreal, after the fact it was probably a couple of years down the road when we didn't make the playoffs a couple of years after that that you realize how hard it is to play in the playoffs, and how hard it is to win games, and to win a game of that magnitude kind of carried over. Even after the Kings had their Cup run last year, I was talking to people from L.A. and how important that goal was, and many, many years later, I look back, going 'Yeah, I guess it was a pretty exciting time, an exciting goal for the Kings history."
On whether he was rooting for the Kings in the 2012 playoff run:
"Absolutely. I was absolutely cheering for them. My heart is still with the Kings. I was happy for the guys, like Luke Robitaille. Rob Blake was kind of helping out. Guys are there that I was part of. Even some of the old guys – even Jeff Solomon, he used to be my agent when I was coming up. So I still have ties to the Kings. I was going for them, and then all of a sudden Davis Drewiske, who played at the University of Wisconsin, I've gotten to know Davis over the years from being here, so seeing him playing and getting a chance for a Cup [was great]. But my heart is still a little black and silver. I'm still cheering for those guys to win it."
Luc Robitaille, on Gary Shuchuk's double overtime goal:
"I think Barry Melrose had made a line – it was Jari Kurri, Gary Shuchuk and myself, and we were just buzzing all night. I can't remember what we did before, but it was one of those games where we seemed to be all around it, and in overtime, that shift, we were all over them. I got behind the net and I looked one way. I looked the other way, and I just saw his stick. I put it right there, and he kind of put it right there, short side. It was the best feeling I've ever had. It was absolutely incredible."
A conversation with Kelly Hrudey
First Taste: Warren Rychel
First Taste: Luc Robitaille