-The Los Angeles Kings scored on their first shot for the second game in a row, withstood some Edmonton Oilers buzzing midway through the first period, tacked on a second goal on a Jeff Carter power play deflection late in the period and proceeded to grind and wear down the visitors in five-on-five play en route to a workmanlike 4-1 win Saturday afternoon at Staples Center. The Kings were efficient on the man advantage, scoring their first two power play goals this week and doing more damage than an Edmonton unit that scored once in four attempts after sneaking up to third in the NHL in power play efficiency. Taylor Hall, Ryan Nugent-Hopkins and Jordan Eberle found few opportunities at even strength as their speed and playmaking ability was channeled effectively towards the perimeter of the ice. Did yesterday's game mark the fewest odd-man rushes by a Kings opponent this season?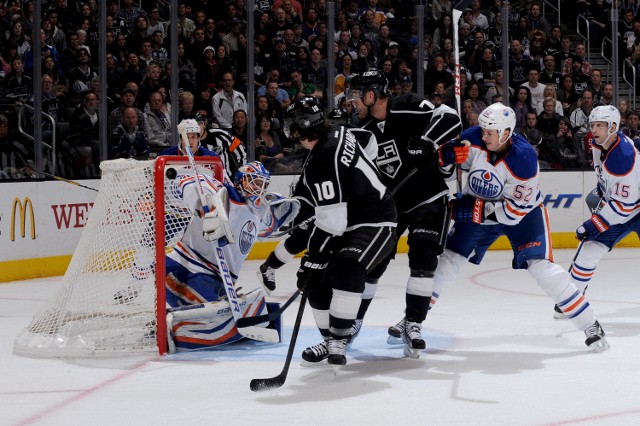 -Regarding Los Angeles' penalty killing, don't overlook a first period reach by Colin Fraser late on Edmonton's first power play. His pokecheck to disrupt a pass intended for Shawn Horcoff on the backdoor saved a probable goal that would have tied the game at one.
-It has been discussed both on this blog and in my first intermission analysis with Nick Nickson several times: yes, Jeff Carter is known for a lot more than simply scoring goals. When I've spoken with former coaches of his and those who have followed him from his Ontario Hockey League days, his defensive responsibility has always been a topic of conversation. He gets a mostly regular shorthanded shift, ranking fifth amongst L.A.'s forwards with an average of 1:18 of shorthanded time on ice per game. His strong five-on-five backchecking was noticeable again yesterday, a result of his powerful strides and ability to effortlessly cover large swaths of ice.
-So there's kind of a big game down in Anaheim today. It seemed that for as many Edmonton-based questions asked in the locker room and to Darryl Sutter after the game, there were just as many referencing the Ducks and the success that they've had at Honda Center this year. Both teams were complimentary of each other, and it was interesting to hear Darryl Sutter practically concede the division. "We know they're a division winner, and I'm not saying that because we play them tomorrow," Sutter said after yesterday's game. "But when you get off to that type of lead, that's impossible to make it up." Is it? Los Angeles is eight points behind Anaheim with 10 games remaining, including a pair (one home, one away) against their Freeway Faceoff rivals. The Ducks do have a significantly easier schedule, facing only one current playoff team – the Canucks – in addition to the Kings over the remainder of the regular season. Six of Anaheim's final 10 games are against Edmonton, Colorado, Calgary and Columbus. If the Ducks win tonight's game, I'm favoring Sutter's analysis.
"It's going to be physical. It's going to be a big man's game."
-Corey Perry, to Helene Elliott of the LA Times