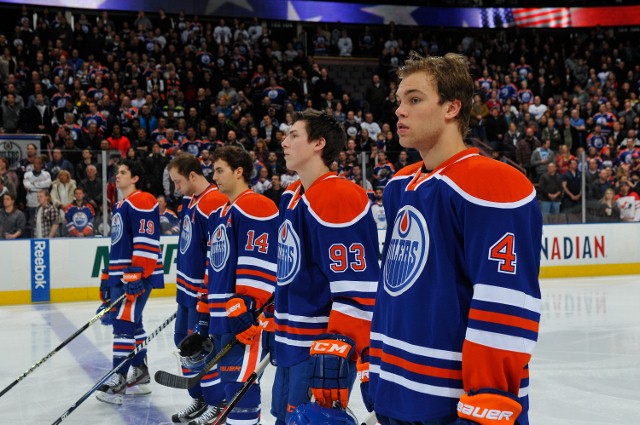 Los Angeles Projected Starting Goaltender – Jonathan Quick
Season: 28 GP (27 GS) / 12-11-3 / 2.54 GAA / .896 Sv% / 1 SHO
Career vs Edmonton: 13 (13) / 8-1-4 / 1.58 / .939 / 1
Last Game vs Edmonton: 2/19/13 / 60 MP / 23-24 shots / 3-1 W
2012-13, Home: 12 (11) / 7-4-1 / 1.87 / .908 / 1
Edmonton Projected Starting Goaltender – Devan Dubnyk
Season: 30 (29) / 12-10-6 / 2.50 / .922 / 2
Career vs Los Angeles: 6 (6) / 3-2-1 / 2.09 / .933 / 0
Last Game vs Los Angeles: 1/24/13 / 61 MP / 30-31 shots / 2-1 OTW
2012-13, Away: 16 (16) / 6-7-2 / 2.34 / .928 / 1
Los Angeles Leaders
Total Points: Anze Kopitar (10-23=33)
Goals: Jeff Carter (21-4=25)
Assists: Anze Kopitar (10-23=33)
Plus/Minus: Justin Williams (+18; 10-17=27)
Penalty Minutes: Keaton Ellerby (50*; 0-3=3)
*36 of Ellerby's penalty Minutes came as a member of the Florida Panthers.
Edmonton Leaders
Total Points: Taylor Hall (13-28=41)
Goals: Sam Gagner (14-19=33)
Assists: Taylor Hall (13-28=41)
Plus/Minus: Taylor Hall (+5; 13-28=41)
Penalty Minutes: Mike Brown (114*; 1-1=2)
*70 of Brown's penalty minutes came as a member of the Toronto Maple Leafs
A stick tap goes to: A moderate step forward. Barring a late-season slump and a major ping pong ball coup, the Oilers won't be picking first again in the NHL draft this year. Of the three previous number-one picks, Taylor Hall has made the awaited leap, ranking seventh in the league with 41 points and tied for fifth with 28 assists. In an 82-game season – which should come with an asterisk, as Hall missed a total of 48 games in each of his first two years – he would be on pace for 99 points. In net, 6-foot-5 Devan Dubnyk has handled the rigors of a number goaltender remarkably well and has lowered his goals against average every season he has been in the league.
A fist shake goes to: A lack of sandpaper in Edmonton's top six. There are no Anze Kopitars or Mike Richards on this Oilers team. Really, there are no Anze Kopitars anywhere else around the NHL, but in terms of jam and defensive acumen in the top-six, they are still a work in progress. As outstanding as their third-ranked power play has been, they still allow the third-most shots and have the worst faceoff percentage in the NHL. Make Edmonton play five-on-five.
Why the Kings need to win this game: The Kings are battling for home-ice advantage in the first round of the playoffs, which could be a major factor if they end up in a matchup against San Jose. On the other hand, they're one bad week away from being right on the precipice of the playoff bubble. They'll be facing a desperate bubble team today, one that had won five in a row prior to Thursday's loss in Vancouver.
Rankings and Statistics
Goals/Game: LAK – t-7 / 2.86; EDM – 17 / 2.62
Goals Against/Game: LAK – 8 / 2.40; EDM – 16 / 2.68
Power Play: LAK – 12 / 18.8%; EDM – 3 / 23.1%
Penalty Kill: LAK – 13 / 81.8%; EDM – 8 / 84.3%
Shots/Game: LAK – 12 / 29.7; EDM – 25 / 27.1
Shots Against/Game: LAK – 1 / 24.4; EDM – 28 / 32.5
Faceoffs: LAK – 9 / 51.2%; EDM – 30 / 45.6%
Save Percentage: LAK – 20 / .902; EDM – 6 / .918
Projected Lines – Los Angeles
Dustin Brown – Anze Kopitar – Justin Williams
Kyle Clifford – Mike Richards – Jeff Carter
Dwight King – Jarret Stoll – Trevor Lewis
Brad Richardson – Colin Fraser – Jordan Nolan
Jake Muzzin – Drew Doughty
Rob Scuderi – Slava Voynov
Robyn Regehr – Keaton Ellerby
Jonathan Quick
Jonathan Bernier
Notes: Robyn Regehr saw increased time with Drew Doughty as Thursday's game progressed. Considering Darryl Sutter's comments about not wanting to disrupt the Muzzin-Doughty chemistry, until Regehr and Doughty skate together on their first shifts, I'm not adjusting the above pairings. Brad Richardson and Dwight King have been interchangeable as third and fourth line left wings; Richardson could also see time at center. Justin Williams has goals in five straight games and six goals total. As always, line projections are educated assessments and not definite alignments.
Projected Lines – Edmonton
Taylor Hall – Ryan Nugent-Hopkins – Jordan Eberle
Magnus Paajarvi – Sam Gagner – Ales Hemsky
Ryan Jones – Shawn Horcoff – Nail Yakupov
Ryan Smyth – Jerred Smithson – Mike Brown
Nick Schultz – Justin Schultz
Ladislav Smid – Jeff Petry
Ryan Whitney – Corey Potter
Notes: It is unclear whether newly acquired center Jerred Smithson will be in the lineup; if he is unable to go, Ryan Smyth would likely center the fourth line with Lennart Petrell to his left. Taylor Hall has 14 points and Ryan Nugent-Hopkins has 10 points over the last six games. The Oilers are 6-2-1 in their last nine games in Los Angeles, though five of the six wins came in shootouts. As always, line projections are educated assessments and not definite alignments.