-Teams may need a period or two to find their legs when playing the first home game after an extended road trip – a notion that an opportunistic Los Angeles Kings team refuted quickly with goals on their first two shots in a 3-0 victory over the Minnesota Wild Thursday night at Staples Center. In a game that was the preferred response to the much more wide-open style of hockey played in Minnesota last Saturday, Los Angeles smothered Minnesota in the first period while still managing to score a pair of goals off rushes early before continuing a disciplined effort for 60 minutes.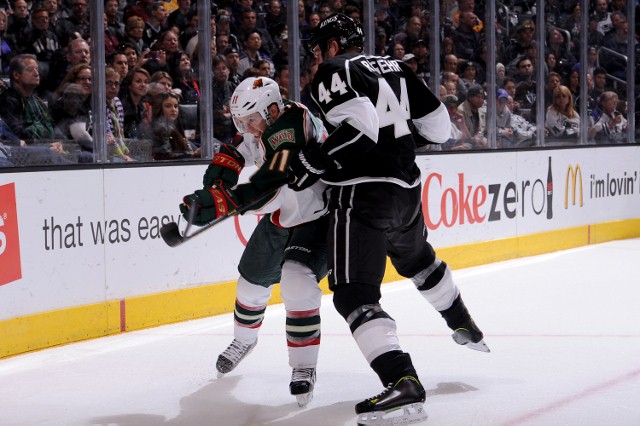 -If Robyn Regehr can continue to manufacture performances like the one he did on Thursday, he'll certainly make an impact on a Kings team that can use his physical, competitive package. One game is a small sample size – and many players admit to adrenaline having an impact in their first game after being traded – but he was heavy in his own corners and contributed a pair of solid late second period hits on Zach Parise and Jared Spurgeon along the boards deep in L.A. territory as part of his six hits overall. He earned an assist on a deft poke check off the stick of Zenon Konopka and onto the stick of Anze Kopitar, who took advantage of an ill-timed Minnesota line change for a stretch pass to an open Justin Williams, who read the play well and covered a lot of space up ice to receive the pass. Regehr soundly passed his first test in a Kings jersey on Thursday night and will have an interesting challenge on Saturday afternoon against a quick and elusive Edmonton Oilers team.
-Jonathan Bernier continues to give Los Angeles an excellent chance of winning every time he leads the team onto the ice. He has given up two goals or fewer in nine of 10 starts and one goal or fewer in six of 10 starts. He has now won four games in a row to go along with a five-game winning streak from earlier in the year. Though Darryl Sutter alluded to needing both goaltenders down the stretch during this heavy schedule – and there is certainly a need for Jonathan Quick to play his way towards the level he exhibited last season – the team can't overlook the results Bernier has provided in his opportunities.
-After Dustin Penner's presence could have been used in a loss at Phoenix on Tuesday in which the Kings couldn't capitalize around the net, Kyle Clifford stepped in and performed quite well alongside Mike Richards and Jeff Carter. He forechecked and was effective below the opponents' goal line, freeing pucks loose and creating space for his two linemates. The Richards line saw a lot of time around the Minnesota net Thursday night, and it will be an interesting sub-plot to see how Clifford performs in Penner's absence, should he remain in the same role this weekend.