-A regulation loss punctuated what was otherwise a very good road trip for the Los Angeles Kings, who strung together three wins and seven points from five games over nine days. The players would never be quick to admit it, but I did think last night's game indicated the batteries could use some recharging. It didn't have to do with physical fatigue (most of the team had a day off on Monday) as much as it had to do with mental fatigue, and a grinding, workmanlike Phoenix team that presents a challenge on any night was even more effective against an L.A. team at the end of a trip. It was still a game that hung in the balance of several bounces as the Kings were denied on the second and third opportunities in front of a very good Jason LaBarbera and in the face of a committed Coyotes performance.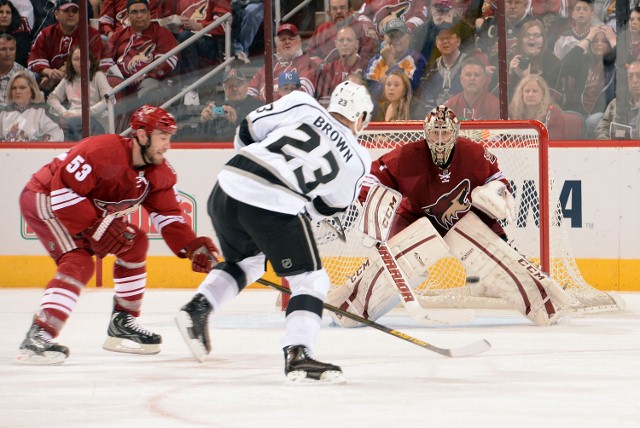 -Speaking of LaBarbera, he was the better goaltender in this game and deserving of the first star. He was well squared to the shooter throughout the night, resulting in several quality opportunities hitting him in the howling Coyote on the front of his jersey. His best saves were made with his pads late in the second period – one on Jeff Carter off a well-placed Brad Richardson two-on-one feed, and the other on a low Drew Doughty blast from the top of the right circle off a feed from Anze Kopitar. There was also a strong first period glove save on Dustin Brown during a Kings power play in a scoreless game. Re-living some of these highlights I'm being reminded how strong of a defensive game Phoenix played despite Los Angeles putting up 40 shots for the third time on the road trip.
-Quick, on the other hand, has been better, and Yandle's insurance tally from below the left hash marks is a tough goal to allow when trailing by one late. But let me be perfectly clear: this game wasn't lost because of Jonathan Quick. The Kings lost because they scored only one goal and were repeatedly denied second and third opportunities at the other end of the rink by an excellent Coyotes effort. Was anyone else thinking about how L.A. was missing Dustin Penner on the left side last night? I wouldn't be surprised if the Kings made a trade for a winger today, though it does appear the going rate for a top-six forward may be a touch high for what the team is willing to pay.