-After a more wide-open Minnesota performance that several players referred to as "sloppy", the Los Angeles Kings engineered one of their tighter road efforts of 2012-13 as they controlled the majority of the possession, dominated the shot totals and played a committed game in their own zone in a 3-2 win over the Dallas Stars. Los Angeles' stick work in cutting down passing lanes and blocking shots was impressive; while the game was tied in the third period and Eric Nystrom wound up for a one-timer in the high slot, Anze Kopitar raced back defensively after a turnover to disrupt what was developing into a Grade-A chance by using his stick to deflect the shot high into the netting above Jonathan Bernier, one of several key shot blocks. Though there was a 40-to-15 shot-on-goal discrepancy and the Kings finished with significantly more shot attempts than the Stars, that the teams finished with 16 blocked shots each is a testament to L.A.'s effort on the second night of a back-to-back set. To reiterate, the Kings were credited with 16 blocked shots and 15 shots against.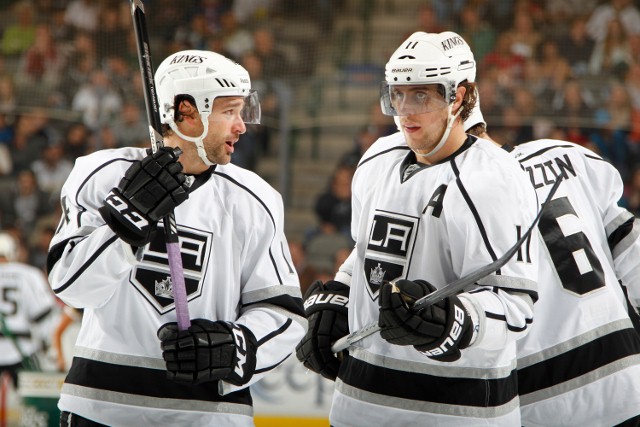 -I loved the Kings' first shift of the game. Despite a loss the night before, a late arrival at the team hotel, no morning skate and an early start time, Los Angeles quickly established themselves as Jake Muzzin, Drew Doughty, Dustin Penner, Mike Richards and Jeff Carter produced an outstanding first shift. Richards got the first chance 11 seconds in when he drove down the right wing and attempted to jam a puck past Lehtonen on the short side. After the faceoff, Doughty ripped a slapshot from the point with heavy traffic in front that Lehtonen smothered without allowing a rebound. When play resumed, Penner won a battle behind the net before Carter eventually fluttered a deflected puck by Lehtonen to give Los Angeles the lead 25 seconds in. Before the puck even entered the Kings' side of the ice, they had won three faceoffs, taken three shots, and led 1-0.
-Los Angeles' third and fourth lines outplayed Dallas' third and fourth lines. Brad Richardson had a strong night with his boards work and puck pursuit and it was fitting that he scored the goal that gave the Kings the lead. With the score tied early in the third period, Tomas Vincour's play got a little cute when he used a soft backhanded pass in an attempt to clear the zone from well inside his own blue line. Kyle Clifford's adept touch freed the puck towards Richardson, who roofed it past Lehtonen for the go-ahead goal. Dwight King, who earned his most ice time of the season last night, also had a lunchpail-type effort in his puck control and work around the boards. Credit Kari Lehtonen for another strong performance against Los Angeles, as the final score could have been wider than a one-goal difference.