A long-rumored trade inched closer towards completion Monday night when the Los Angeles Kings agreed to acquire veteran stay-at-home defenseman Robyn Regehr from the Buffalo Sabres in exchange for second-round draft picks in 2014 and 2015. The trade becomes official once Regehr passes his physical.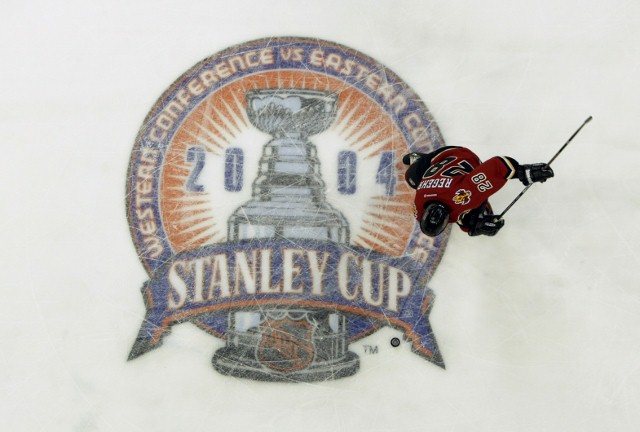 To make room on the roster, forward Dustin Penner was placed on injured reserve. Penner, who skated with Mike Richards and Jeff Carter in Sunday's 3-2 win at Dallas and recorded an assist on his first shift of the roadtrip after sitting out the Chicago, St. Louis and Minnesota games, apparently suffered an injury late in the win.
During the Regehr courtship, there were sentiments expressed against acquiring the 13-year NHL veteran, some of which used advanced stats to indicate that his play dragged down a team's possession numbers. I'm not endorsing or discounting those evaluations.
With the reduction of the salary cap to 64.3 million dollars next year, eight players heading towards restricted free agency on July 1 – including Slava Voynov – and the expiration of Dustin Brown's contract after the 2013-14 season, the Kings' ability to acquire a player linked to a contract that extends past this season without trading away a player from its core is somewhat hindered.
With many players signed to longer, weightier extensions off the table for Los Angeles, an experienced sizeable defenseman capable of rugged play whose contract expires after the season became a chief consideration in the absence of Willie Mitchell and as Matt Greene recovers from injury. Regehr fits that bill. Greene resumed light skating last week and could potentially rejoin his teammates late next month.
One player bound for unrestricted free agency I considered as an interesting trade target during the Kings Live pregame show yesterday evening was Ladislav Smid; within four hours of my comments, the 27-year-old defenseman signed a four-year, 14-million dollar extension with Edmonton.
Regehr isn't likely to see top-pairing minutes, though he is an experienced penalty killer that can aid a shorthanded unit that has fallen to 15th place this year after residing at fourth place the last two seasons – a drop can be partially attributed to the team missing Mitchell and Greene's size and shot-blocking presence in front of the net. L.A.'s blue line would also be stretched quite thin in the event another defenseman was injured.
Considering no roster players or prospects were touched by this trade, and that this does further open L.A.'s title window – already quite open at this point – this is a positive step towards solidifying the team's blue line depth in the preparation of a playoff run, which was one of the chief objectives leading up to Wednesday's trading deadline.
I'll have more updates and quotes from tomorrow's morning skate.