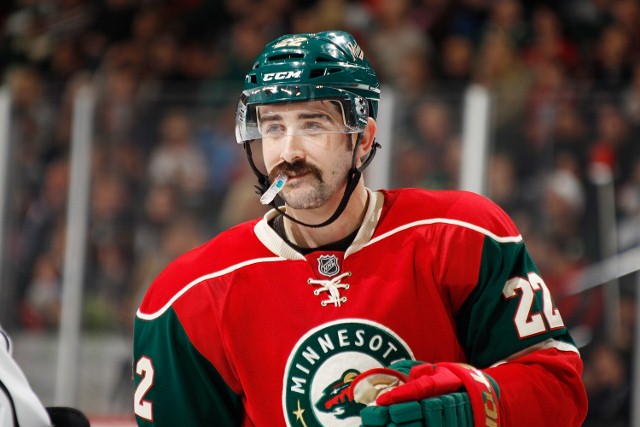 Los Angeles Projected Starting Goaltender – Jonathan Quick
Season: 26 GP (25 GS) / 12-10-2 record / 2.51 GAA / .895 Sv% / 1 SHO
Career vs Minnesota: 11 (11) / 7-3-1 / 2.61 / .892 / 0
Last Game vs Minnesota: 12/8/11 / 58 MP / 20-24 saves / 2-4 L
2012-13, Away: 14 (14) / 5-6-1 / 3.11 / .886 / 0
Minnesota Projected Starting Goaltender – Niklas Backstrom
Season: 27 (26) / 18-7-2 / 2.32 / .917 / 1
Career vs Los Angeles: 16 (15) / 6-5-3 / 2.39 / .916 / 2
Last Game vs Los Angeles: 3/31/12 / 65 MP / 26-29 shots + 2/2 shootout / 4-3 W
2012-13, Home: 14 (13) / 10-3-1 / 2.03 / .921 / 1
Los Angeles Leaders
Total Points: Anze Kopitar (10-21=31)
Goals: Jeff Carter (18-4=22)
Assists: Anze Kopitar (10-21=31)
Plus/Minus: Justin Williams (+14; 5-17=22)
Penalty Minutes: Keaton Ellerby (50*; 0-3=3)
*36 of Ellerby's penalty minutes came as a member of the Florida Panthers.
Minnesota Leaders
Total Points: Mikko Koivu (9-22=31)
Goals: Zach Parise (14-14=28)
Assists: Ryan Suter (3-24=27)
Plus/Minus: Zach Parise +10 (14-14=28)
Penalty Minutes: Zenon Konopka (96; 0-0=0)
A stick tap goes to: Defied expectations. Even when Minnesota signed Zach Parise and Ryan Suter to 13-year, 98-million dollar deals, many didn't consider the Wild to be an immediate contender following a season in which they won only 35 games and scored a league-low 177 goals. Instead, a deep Wild outfit is neck-and-neck with Vancouver in contention for the Northwest Division crown and would have home ice advantage in the first round were the playoffs to start today. Their seven-game winning streak ended in Dallas last night, though only once in their previous eight games have they been held under three goals. Poised 19-year-old rookie defenseman Jonas Brodin is eating up over 22 and a half minutes per game, while 6-foot-3 rookie Charlie Coyle has added some power while skating alongside Zach Parise and Mikko Koivu.
A fist shake goes to: The Northwest Division. This isn't to take anything away from a Minnesota team that grades well in many different statistical categories, has an excellent pipeline and relies on consistent goaltending, but playing Colorado (currently in 15th place), Calgary (14th place) and Edmonton (12th place) a combined 14 times provides some slight competitive imbalance. Minnesota's Northwest Division "rivals" combine for a minus-52 goal differential; only Tampa Bay's divisional opponents (minus-59) combine for a worse goal differential out of the 30 NHL teams.
Why the Kings need to win this game: L.A. would like to continue its recent success away from Staples Center and win three straight road games for the first time this season. Considering there's significant travel before a 5:00 game in Dallas tomorrow, they'd like to win the front end of a challenging back-to-back. Also, obviously, the Kings are looking to inch closer to the playoffs.
Rankings and Statistics
Goals/Game: LAK – 7 / 2.91; MIN – 15 / 2.73
Goals Against/Game: LAK – t-9 / 2.46; MIN – 11 / 2.48
Power Play: LAK – 15 / 18.3%; MIN – 16 / 18.1%
Penalty Kill: LAK – t-13 / 82.0%; MIN – 9 / 83.8%
Shots/Game: LAK – 13 / 29.5; MIN – 17 / 28.7
Shots Against/Game: LAK – 3 / 24.5; MIN – 12 / 28.3
Faceoffs: LAK – 8 / 51.4%; MIN – 3 / 52.7%
Save Percentage: LAK – 21 / .900; MIN – 12 / .912
Projected Lines – Los Angeles
Dustin Brown – Anze Kopitar – Justin Williams
Mike Richards – Jeff Carter – Tyler Toffoli
Kyle Clifford – Jarret Stoll – Trevor Lewis
Dwight King – Colin Fraser – Jordan Nolan
Jake Muzzin – Drew Doughty
Rob Scuderi – Slava Voynov
Keaton Ellerby – Alec Martinez
Jonathan Quick
Jonathan Bernier
Notes: The Kings have earned points in seven of their last eight trips to the Xcel Energy Center, going 5-1-2 since the beginning of the 2008-09 season. Jake Muzzin leads all rookies with a plus-13 rating. He ranks fourth among rookie defensemen with 13 points (6-7=13). Jeff Carter is one point shy of 300 in his career. Anze Kopitar needs one assist to tie Jim Fox for the eighth-most assists in club history. He is one point behind Charlie Simmer for ninth place overall. Jonathan Quick is two wins behind Kelly Hrudey for the second-most wins in club history. As always, line projections are educated assessments and not definite alignments.
Projected Lines – Minnesota
Zach Parise – Mikko Koivu – Charlie Coyle
Pierre-Marc Bouchard – Matt Cullen – Devin Setoguchi
Dany Heatley – Kyle Brodziak – Cal Clutterbuck
Mike Rupp – Zenon Konopka – Torrey Mitchell
Ryan Suter – Jonas Brodin
Brett Clark – Tom Gilbert
Clayton Stoner – Jared Spurgeon
Niklas Backstrom
Matt Hackett
Notes: 36-year old Brett Clark, a veteran of 681 NHL games, is poised to make his Minnesota debut tonight. He was signed out of AHL-Oklahoma City on March 13, the day before the Wild embarked on a seven-game winning streak. Minnesota has trailed for a total of 20:17 over its last six home games. The Wild is 12-3-1 overall and 8-1-1 in their last 10 at the Xcel Energy Center. Mikko Koivu has a season-long six-game point streak (3-6=9 total) and has 17 points (6-11=17) this month, the highest point total he has recorded in any one month in his career. Niklas Backstrom has won seven straight starts. Minnesota is 3-2-0 on the second night of back-to-back games. As always, line projections are educated assessments and not definite alignments.